To show you how to read lace charts in the round, we'll be showing you some segments of the lace charts from the Grinton Hat patterns, which are excellent learning-lace patterns; there is a worsted version and a fingering weight version, so you can choose whichever is most comfortable to you.
Note: The lace in this tutorial is all worked in the round, for the hats, which means all chart rows are read as right-side rows, from right to left. To dig deeper into lace knit flat, as well as some other things like repeats within charts, check out our Learning Center page on Reading Lace Charts.
Getting Started
A main thing to understand about lace patterning is that, unless the stitch count is meant to go up or down, each yarn-over will be balanced out by one decrease stitch. A yarn-over is an increase (one stitch is added each time you create a yarn-over), so a decrease (usually a knit-2-together or a slip-slip-knit) always needs to be worked to counteract it. That way the stitch count stays the same at the end of every row/round. Let's take a look: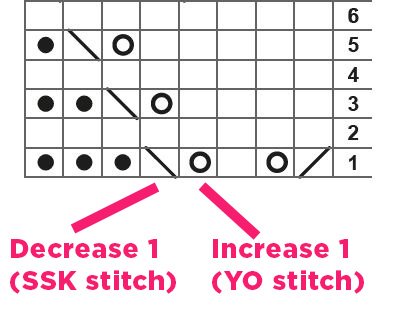 The bottom row shown is worked (read right-to-left): "K2tog, YO, K1, YO, SSK, P3."
The K2tog (knit-2-together) decrease is balanced by the YO (yarn-over) immediately following, and then the next YO is balanced by the SSK (slip-slip-knit) immediately following, resulting in zero stitches added or subtracted at the end of the round. This chart row will be repeated several times around the hat.
In more complex lace, sometimes the balanced YOs and decreases will not be directly next to each other. Maybe you'll see a YO and then a knit stitch and then another YO and then more knit stitches, then 2 decreases. This works too, because there were 2 increases and 2 decreases, so it balances!
You also may see double decreases where 3 stitches become 1 stitch, like an SK2P (slip 1, knit 2 together, pass slipped stitch over) or a CDD (centered double decrease) worked together with 2 YOs, which also balances just fine! Often the double decrease is placed in between the 2 YOs, with or without extra stitches between them (for example: "YO, K2, CDD, K2, YO").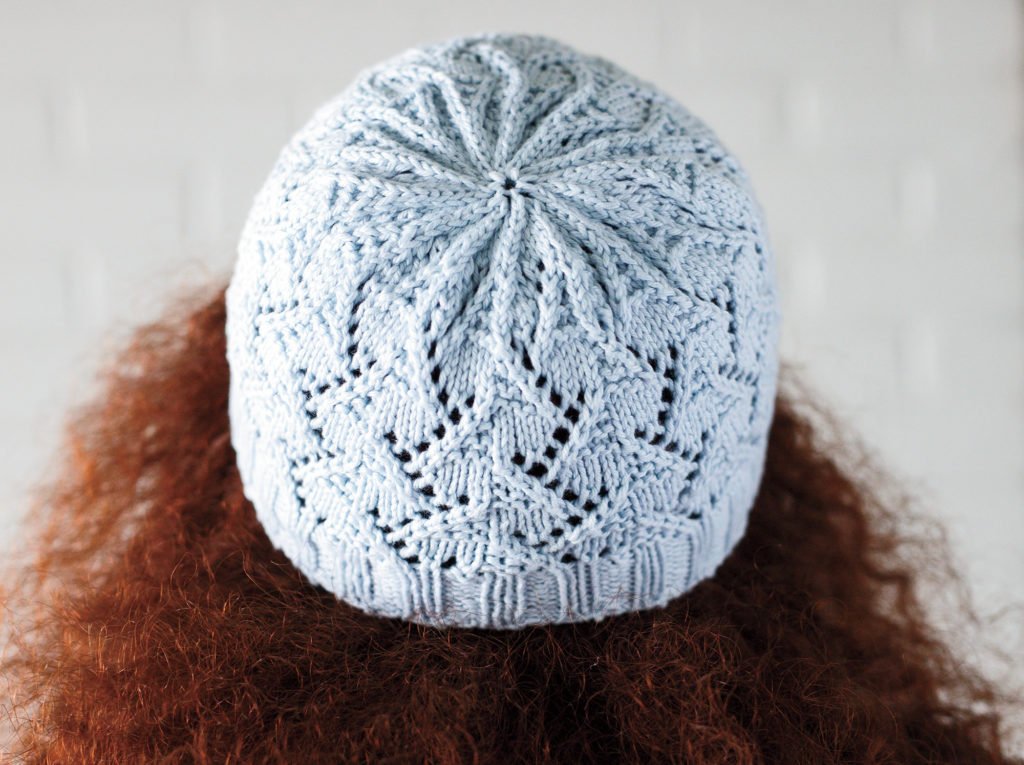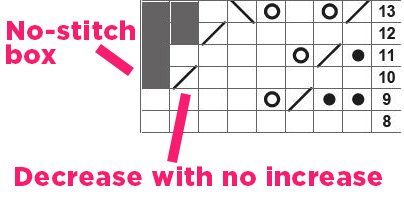 But what about when the stitch count DOES change, like in the crown of this hat? Let's take a look:
What you see appearing for the first time on Row 10 is a "no-stitch" box of the chart. This means exactly what it's called: there is no stitch there!
When there is a decrease with no YO (or any type of increase) to balance it, the stitch count goes down, so there are too many boxes in the chart and the extra(s) become grayed out. On Row 10, there are 6 knit stitches, then a K2tog decrease which uses the last 2 stitches in the repeat and turns them into 1 stitch, so there's a blank spot after that decrease is completed.
Then on chart Row 12, another K2tog is worked with no YO, so another no-stitch box is added. Since no new stitches are being added, a new no-stitch box will be added every time another stitch is removed from the stitch count.
Again, this charted row is repeated around the hat, so Row 10's "K6, K2tog" is repeated around, and then however many times it's repeated are how many total stitches will be decreased in the full round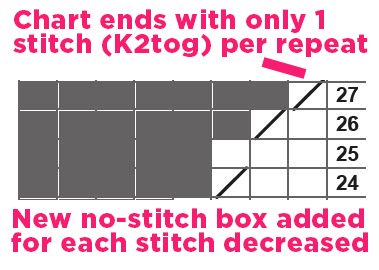 Let's take a look at the end of the crown:
No-stitch boxes continued to be added on every decrease row, ending with the final round which has only 1 stitch (K2tog) worked in the chart row, which will repeat around the hat. All other stitches in that chart row are no-stitch boxes, because those stitches no longer exist.
You may be thinking, well we're only talking about decreases, what about increases? Basically, increases are handled the same way as decreases, with no-stitch boxes, but flipped. There will be no-stitch boxes on all the rows before the increase(s) happen, and then the no-stitch boxes will be removed when the increases happen. That might sound confusing, but as long as you understand what no-stitch boxes mean, you'll be fine to follow a chart with increases! Just remember that no-stitch boxes mean there is no stitch there!
Continue Learning
Of course, lace knitting can get much more complex than what you've seen here, but you now know the basics of how lace charts work and can try out a pattern for yourself! View our Reading Lace Charts guide to learn more lace techniques.
Back to Top