Polonaise Spinning Wheels
The Polonaise features functional wood threaded wheel angle adjustments so the proper angle can be obtained with the flyer. "Pin and socket" bearings support the wheel, offering low friction and exceptional ease of treadling. All of the wheel hardware sits between the wheel posts and the footman passes through the bench to the treadle.

It has the look of wheels from the Baltic area of Poland and Scandinavia. In fact, a well-known spinning wheel historian has said that the manner in which this wheel is built is as close to being historically correct as he has seen. This will be a plus for spinners wanting the "real thing" and for the growing community of reenactors. The amount of decorative turning on this wheel is substantial, making it a sight to behold. The level of detail and turning are breathtaking. Notice the marbling of the wood grain that is highlighted by the stain and finish. No other wheel being made today comes close to this level of detail. This wheel is a great value and it spins as well as it looks.

The Polonaise is made with European alder and birch and comes standard with double drive and scotch tensioning. This wheel comes boxed as a kit and requires assembly.

Additional specifications:
wheel diameter - 24"
orifice height - 25"; size - 3/8"
bobbins: 3 included; will fit all other Kromski wheels; Kromski regular bobbins have yarn capacity that is 50% greater than many other popular wheel bobbins; a plus for any spinner
also includes threading hook, vertical style tensioned Kate and bottle of spinning wheel oil
Ratios: 8, 12, 16 and 20 to 1; 2 whorls included
leather bearings on flyer
weight - 16 lbs.

Please Note: This item will be shipped to your home directly from the manufacturer and will arrive in approx. 1-2 weeks. If you are ordering other items they will be shipped by our standard shipping method and should arrive within our normal shipping time. Sorry, there is no shipping to PO Boxes, AK, HI, U.S. Territories, Canada, or APO/FPO. We are unable to accept cancellations or returns on items shipped directly from the manufacturer.

If you have any difficulty in understanding the instructions, assembling the wheel, or having it operate to its fullest potential, please contact Kromski's Customer Service at (229)-859-2001 for more information.
{{ props.errorMessage || props.successMessage }}
80796 - Polonaise Spinning Wheel - Unfinished
80797 - Polonaise Spinning Wheel - Clear Finish
80798 - Polonaise Spinning Wheel - Walnut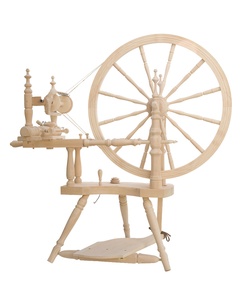 ---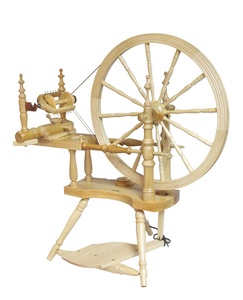 ---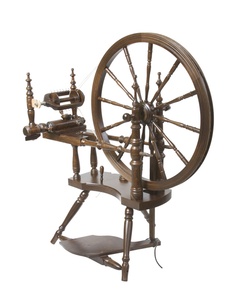 ---