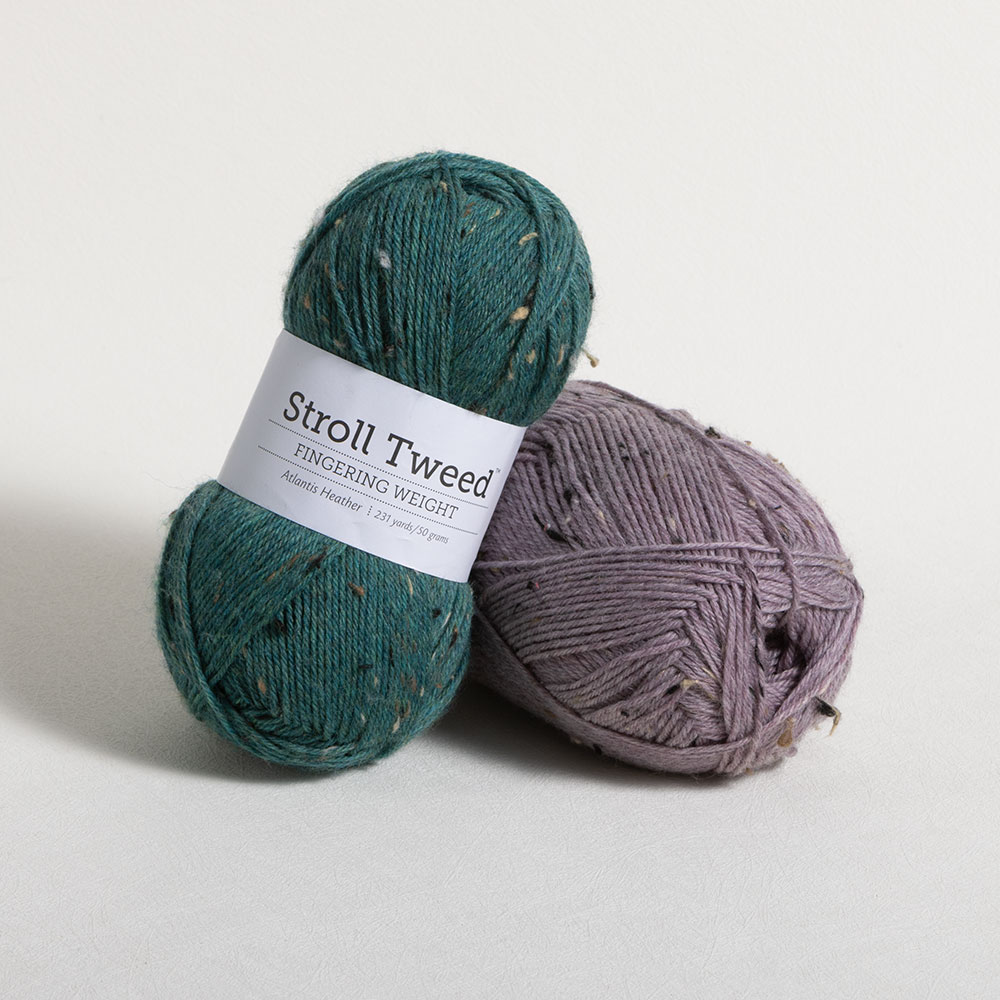 Fiber Content:
65% Fine Superwash Merino Wool, 25% Nylon, 10% Donegal
Weight:
Fingering Weight
Knitting Gauge:
7 - 8 sts = 1" on #1 - 3 needles (2.25mm-3.25mm)
Crochet Gauge:
21-32 sc=4" on B-E hooks
Yards:
231
Grams:
50
Put Up:
ball
Care:
Machine Washable/Tumble Dry Low
Purchase Needles & Hooks

Stroll Tweed Sock Yarn
$3.29 - $5.49 50g / ball
Original Price: $5.49
Stroll Tweed is perfect for gift socks because it is machine washable, so does not require special care on the part of the recipient. The rich, solid colors show off texture, lace and cables. The red, blue, green and yellow nubs of the tweed add flecks of interest, but they do not distract from stitch patterns at all. We've also tried Fair Isle socks using this yarn, and the nubs are a fun unifying element throughout the color work design. The softness makes these socks a special treat for your feet.

Note: For best machine wash results, turn the socks inside out and wash in cold water on a delicate cycle.
Select a color below to add to cart:
Retail: $5.49
Patterns
Customer Picks
Reviews
Video
"Essential Tweed is perfect for gift socks because it is machine washable, so does not require special care on the part of the recipient. The rich, solid colors show off texture, lace and cables. The red, blue, green and yellow nubs of the tweed add flecks of interest, but they do not distract from stitch patterns at all. We've also tried Fair Isle socks using this yarn, and the nubs are a fun unifying element throughout the color work design. The softness makes these socks a special treat for your feet. Also available as natural undyed yarn so you can create your own colorways and in many colors without the tweed nubs." Kaboodle.com
07-18-2018 5:37am

03-10-2018 10:22pm

01-22-2018 1:53pm

01-18-2018 1:50pm

11-17-2017 6:34am

See All Reviews