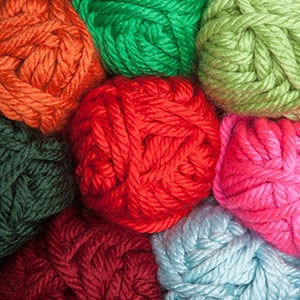 Fiber Content:
80% Acrylic 20% Superwash Wool
Weight:
Super Bulky
Knitting Gauge:
2.5 sts = 1" on #15 needles
Crochet Gauge:
9 sc = 4'' on M/N-13 hooks
Yards:
44
Grams:
100
Put Up:
ball
Care:
Machine Wash Gentle/Tumble Dry Low
Purchase Needles & Hooks
Mighty Stitch Super Bulky
$3.99 100g / ball
The Mighty Stitch is a Superwash Superhero! A crafting powerhouse combining 20% Superwash Wool and 80% Acrylic, this yarn is perfect for super chunky cowls, scarves, and of course blankets. It knits up in a flash, too! When you need an easy-care yarn in a wide range of gorgeous hues, you're sure to think, "Mighty Stitch to the Rescue!".
12-04-2018 9:14pm

08-29-2018 5:05pm

12-16-2017 3:01pm

02-02-2017 2:09pm

01-28-2017 8:53am

See All Reviews