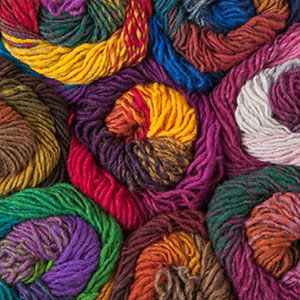 Fiber Content:
100% Wool
Weight:
Aran / Heavy Worsted Weight
Knitting Gauge:
4 - 4.75 sts = 1" on #7 - 9 needles (4.5mm-5.5mm)
Crochet Gauge:
11–14 sc = 4'' on I - K hooks (5.5 mm-6.5 mm)
Yards:
137
Grams:
50
Put Up:
Ball
Care:
Hand Wash/Dry Flat
Purchase Needles & Hooks
Galerie
$2.79 50g / Ball
Original Price: $3.99
No need to grab your paintbrush with this color changing, 100% wool yarn. Every colorway features a sequential color change of five bold hues in a range of painterly palettes, with numerous intermediate hues blending at the transitions. Like an unpretentious homespun, the single ply is naturally spun and varies thick and thin, knitting up with a range of serendipitous fabric textures from the same ball. Bring a kaleidoscopic of color to your masterpiece sweaters and accessories.

As a Special Reserve, this is a limited edition yarn and may never return.
Retail: $3.99
09-08-2018 6:05pm

08-19-2018 8:17am

05-16-2018 9:29pm

04-13-2018 5:45pm

04-12-2018 6:56pm

02-21-2018 4:34pm

02-07-2018 9:29am

01-20-2018 2:21pm

01-18-2018 10:09am

01-05-2018 7:05pm

12-28-2017 12:51pm

12-26-2017 11:48am

12-25-2017 6:11am

12-22-2017 6:32am

12-09-2017 6:56pm

11-28-2017 12:07pm

11-13-2017 2:08pm

11-04-2017 6:41pm