Fiber Content:
100% Superwash Merino Wool
Weight:
Worsted
Knitting Gauge:
4 - 4.5 sts = 1" on 6 - 9 US needles
Crochet Gauge:
11 - 14 sts sc = 4" on I - K hooks
Yards:
14
Grams:
10
Put Up:
Mini Hank
Care:
Machine Wash Cold / Tumble Dry Low
Bare Twill Mini
These small, undyed mini-hanks allow you to try out new fibers for a fraction of the price. The low yardage makes them ideal for whipping up swatches or for testing out your DIY dye experiments, without committing your time or wallet to a full-size skein.

Like the fabric for which it's named, Twill is a hearty yarn with structure, just perfect for hats, scarves, mittens, and fitted garments. Three plies of super soft Merino are tightly twisted together, resulting in a dense and springy yarn with tons of definition and body. Because of this compact construction, the yardage and weight can be misleading, with a lot more grams of merino goodness packed into each yard. At 20.5 microns, the fine grade Merino is particularly soft as well as superwash, for added machine washable convenience. The compact plying makes this yarn particularly resistant to pilling and more able to withstand the rigors of the washing machine, making it ideal for next-to-skin accessories like cowls, scarves, and hats or lighter garments that you'll want to touch.
{{ props.errorMessage || props.successMessage }}
29277 - Bare Twill - 10gm Mini Hank

Fiber Content: 100% Superwash Merino Wool
Weight: Worsted
Knitting Gauge: 4 - 4.5 sts = 1" on 6 - 9 US needles
Crochet Gauge: 11 - 14 sts sc = 4" on I - K hooks
Yards: 14
Grams: 10
Put Up: Hank
Care: Machine Wash Gentle Cold / Tumble Dry Low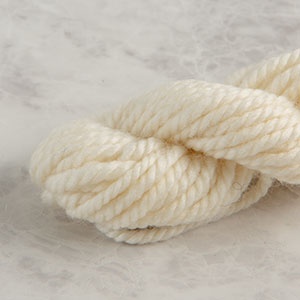 Bare Twill - 10gm Mini Hank
SKU: 29277
---