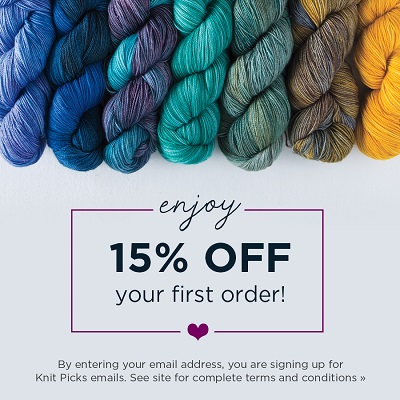 Your email has been added to our list! Please check your inbox for a welcome message and a code to get free shipping on your first order.
Why, hello there! Your email is already on our list, so you're one of the first to know about Knit Picks exclusives, sales, and offers.
No, thanks!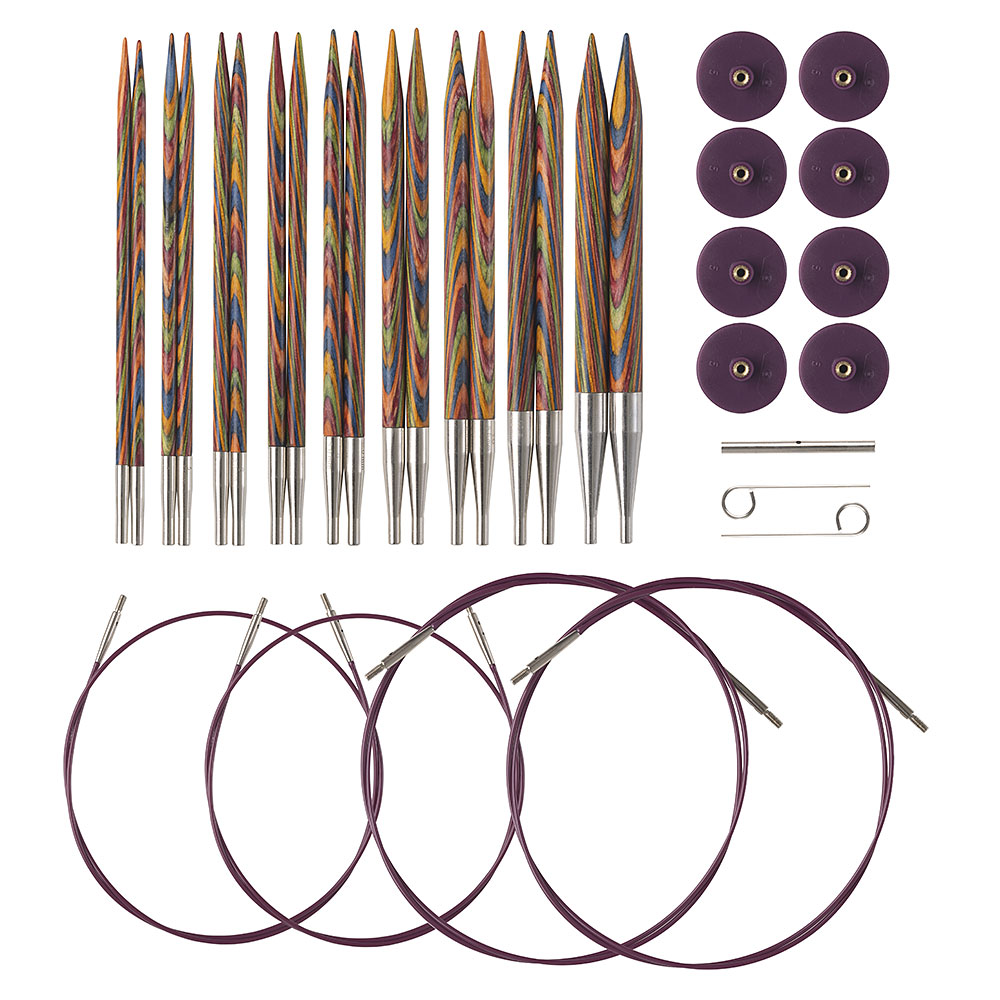 Options Interchangeable Rainbow Wood Circular Knitting Needle Set
$55.99
The Rainbow Interchangeable Knitting Needle Set is the ultimate in knitting versatility! Mix and match knitting needle tips with cables to easily create the circular needle that you need for your next project.
Featuring smooth joins, perfectly tapered tips and flexible cables, this set includes 9 of our bestselling needle tips and 2 sizes of cables - all of which are stored in a handy vinyl case. Two small cable keys are included, which allow you to tighten your needle tips to the cables. Working on multiple projects that call for the same needle size? Use the included endcaps to safely store your project as you start the next.
Made of beautiful laminated birch wood, the Rainbow needles show off waves of color and provide just the right amount of grip to make slick yarns manageable.
Looking to expand your interchangeable knitting needle set? We have additional sizes of both
needle tips and interchangeable cables
available for even more options. Pro tip: The sizing of the cables refer to the total length achieved when the needle tips are attached to the cables.
View the entire
Options Interchangeable Knitting Needle family
.
Learn more about
Knit Picks Options Needles.
Set Includes
Rainbow WOOD KNITTING NEEDLE TIPS
(Needle tip length is 4-3/4")
US Sizes: 4,5,6,7,8,9,10,10.5 and 11 (3.50mm, 3.75mm, 4.00mm, 4.50mm, 5.00mm, 5.50mm, 6.00mm, 6.50mm, and 8mm)
CABLES
2 each of 24" and 32" lengths
ACCESSORIES
9" x 5" snapped clear vinyl needle case, 8 end caps and 2 cable keys
US Sizes: 4, 5, 6, 7, 8, 9, 10,10.5 and 11 (3.50mm, 3.75mm, 4.00mm, 4.50mm, 5.00mm, 5.50mm, 6.00mm, 6.50mm, and 8mm)
Related Items
Reviews
Video
"Can needles be called sensual? Absolutely, yes. Harmony Wood Knitting Needles look and feel as great as they look… You may love them at first for their striking appearance (oh the colors!) but Harmony Wood Needles are very practical. Laminated birch makes them strong and stable. The stability allows for sharp points, particularly nice for lace knitting…" Knit 'N Style, June 2008.
"It is interesting that the idea for these beautiful multicolored needles came from gourmet kitchen utensils. The layers of laminated birch give these needles a strength that is missing in regular wooden needles…Time was spent testing these needles with real knitters who were especially enthusiastic and thrilled to keep the needles." Creative Knitting, March 2008
"The newest addition to the Knit Picks Options line of interchangeable circular needles is this collection of laminated birch tips. These Harmony needles are ultra smooth and extra strong due to the many layers of wood that make up the tips…" Knit Scene, Winter 07/Spring 08
"Function and beauty combine in these colorful birch needles by Knit Picks. Lamination adds strength to wood and make it possible to create sharp points perfect for lace and fine knitting for the Harmony Wood Needles." XRX Knitter's, Winter 2007
"These needles are close to perfect. Good points even for lace knitting. The gorgeous coloring makes it easy to see even the finest yarn with no glare…" Planet Purl, March 2008
"These needles are made of laminated birch. The tip, as with the metal Options Interchangeables, is enjoyably pointy. The shaft of every needle in the kit is smooth and inviting in ways I usually see only on handmade wood knitting tools. They feel hand polished. The needles are light and the join is nearly invisible to my fingers. I am gobsmacked. These things are incredible." Knitty, Fall 2007
"Laminated birch needles are beautiful, light and strong, with a sharper point and more durability…These needles also have sharper points than most wooden needles, making them a good choice for lace knitting and other work that requires precision." www.About.com, March 2009
"I keep one of those Knit Picks interchangeable sets (with both wood and metal) in my suitcase for knitting emergencies." www.Yarnharlot.com, February 2009
"I heart Knit Picks! The Harmony Options set is so beautiful! It comes with needle tips size 4-11 and two each of the 24' and 32' cables. It also came with a little bag to carry it all in, 8 end caps, 2 keys, and a vinyl case for the cables. I love love LOVE it!!! I'm telling ya, Knit Picks has a customer for life!" www.knittingdodo.wordpress.com, February 2009
"I just received my new Harmony Wood Needle tips and cables. I had read on several sites how nice these needles were. They didn't exaggerate at all. I have used aluminum, plastic and bamboo needles. Until today, I always preferred the bamboo needles. Today, I am a convert to Harmony Wood needles. The wood feels fabulous to hold. The yarn moves along easily. And they are so lovely and colorful. I can't wait to replace my others with more Harmony. I am already 1/2 way finished with a new hat since opening the package. Thank you for a great product" Cheryl L., Knit Picks Customer
"In my knitting needles I look for special qualities, they have to lie smoothly in my hands like the Harmony woods from Knitpicks do, because they are made of a natural material. They are made of wood, of layers of birch, and that means that you have a living material in your hand which bends with your movements slightly and that's very good, in my opinion. The second very important thing is that the Knit Picks Harmony Wood needles have such sharp points, long points, which make speed knitting much easier." Miriam Tegels, World's Fastest Knitter

"I LOVE the harmony needles. They are so smooth, sharp, and warm feeling. Metal needles make my hands hurt (because of arthritis), but the wood stays warm, and I can knit for hours with them. And they are much slicker than the bamboo ones I have tried." Lisa B., Knit Picks customer
04-05-2019 9:52am

11-26-2018 1:25pm

11-24-2018 7:24pm

09-25-2018 8:12pm

05-08-2018 3:50pm

See All Reviews