There is a lot to take in when you first choose a knitting pattern. Here we'll walk you through the basic ingredients in a knitting pattern.
Most knitting patterns will contain the same pieces of information, but they may appear in different places within the pattern. For this guide, we are are using a typical Knit Picks Pattern.
Pattern Example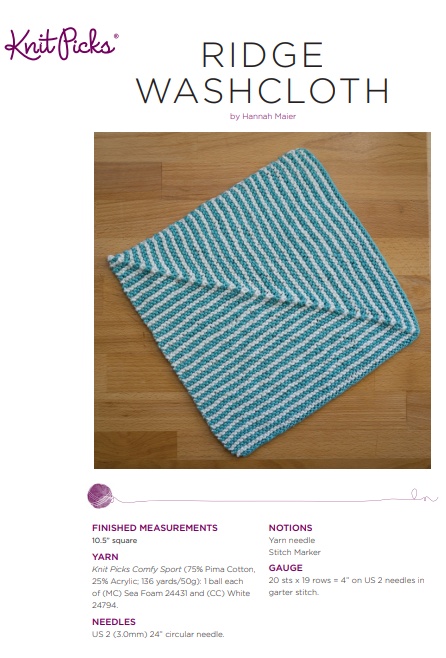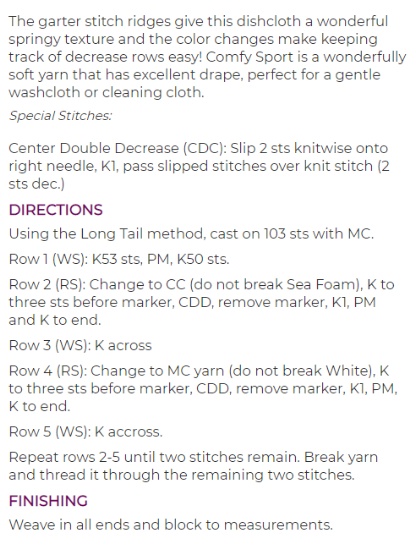 Visual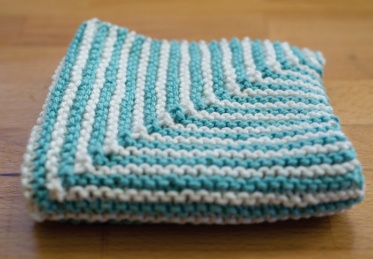 The pattern should contain a picture, or at least a drawing, of what the finished project will look like. This is usually prominently featured at the head of the pattern. A picture can be incredibly helpful once you have begun working a pattern. It gives you a sense for the final style and shape of a garment and allows you to examine how the project was worked. Once you've fallen in love with the picture, now you need to take a look at the fine print of the pattern so you can proceed to the knitting stage.
Specifications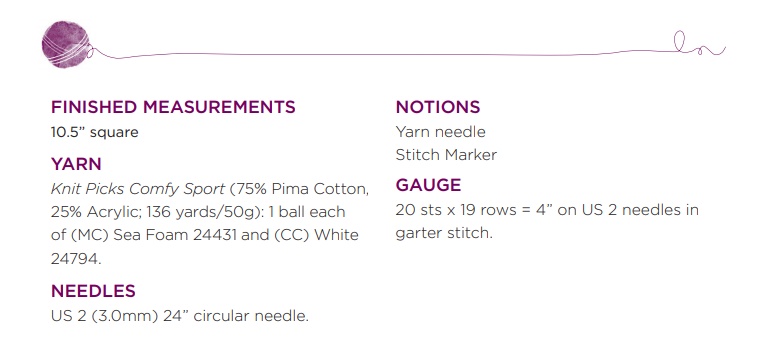 The vital statistics for your pattern are often grouped together. Topping the list in the example shown are the dimensions for the size of the finished item. While a picture can speak a thousand words, it is always helpful to have the numerical measurements of a knitted piece before you begin. The yarn, needles, and notions are the physical items you will need to complete the pattern. While yarn and needles are fairly straightforward, notions can include anything from a tapestry needle for sewing seams, to buttons and beads required for embellishing the knitted item. No pattern is complete without a listed gauge, and you will usually find it printed close to the needle and yarn requirements.
Pattern Instructions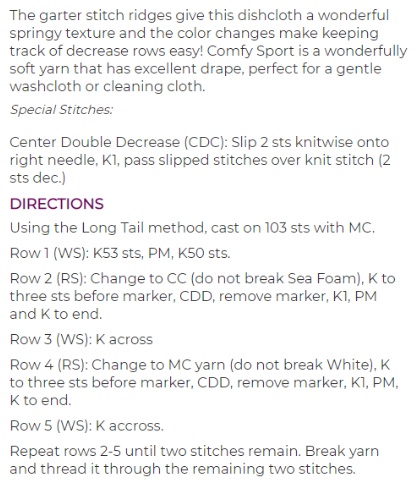 The body of the pattern and the bulk of the text are devoted to the directions for the item you are making. These are listed in a logical order according to the makeup of your item. For instance, you'll begin with the cast on. In the example pattern, there is a specific cast on so the instructions are provided for that method.
Since this is a dishcloth, after the cast on the knitting will be pretty even and repetitive. If the pattern were a sweater, there would be different sections of instructions for various parts of the sweater (front, back, sleeves) or various portions of shaping (armholes, neckline, etc.).
Finally, the stitches will be bound off, and you will be finished with the knitting part of your project.
Last Steps

Even the simplest project can benefit from a bit of loving care when the needles are laid to rest. Simple scarves need ends woven in and more complex projects may need to be assembled. The final portion of a pattern is the Finishing. Here you will find instructions that tell you how to piece your project together, how to wash it, shape it, or sew your notions onto it. When you have completed the finishing, you have completed your project! Way to go!
Back to Top