Knit Picks Options Needle Sets
Our most versatile needles! Mix and match tips and cable lengths to make the perfect knitting needles for any project. From sweaters and afghans to fingerless mittens and hats, our Interchangeable Needles do it all with ease.
Interchangeable Circular Needles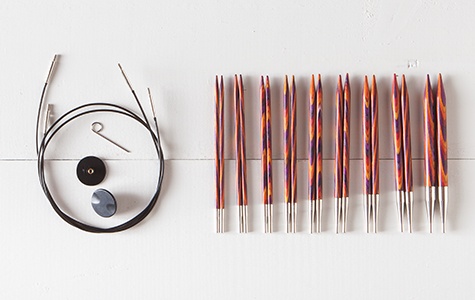 The foundation of the modern knitter's toolbox. Mix and match any size knitting needle tip with any cable length, easily creating the perfect circular knitting needle for almost any project!
Great for: Sweaters, Afghans, and Shawls
Customize your needles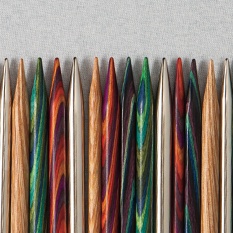 Materials
Choose from slick Nickel or laminated wood in five lovely colorways: Radiant, Majestic, Caspian, and Sunstruck, and Cocobolo.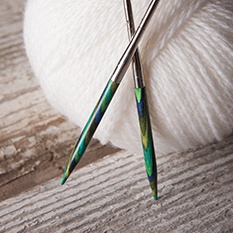 Tip Size
All our interchangeable tips are available in sizes 4-17, so you can knit with fine to bulky weight yarns.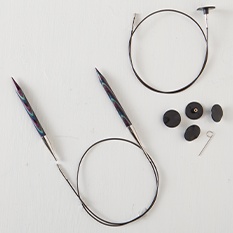 Cable Length
Our memory-free cables come in a wide range of lengths, from 16" to 60".
The Anatomy of Interchangeable Needles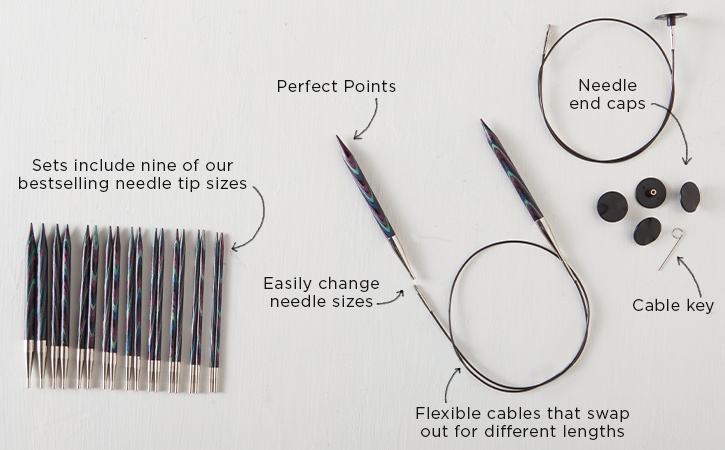 All of our interchangeable needles feature perfectly tapered points and flexible, resilient cables with smooth joins along their entire length. Any needle size can be swapped with any cable length, allowing for maximum flexibility.
Cable key: Ensures that your tips and cables are snugly joined.
Needle end caps: The ever-useful end caps secure your project on a cable, whether momentarily while you swap out needle sizes or for an extended time to use those needle tips on another project.
How to assemble your needles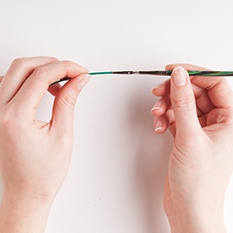 Step One
Thread the needle tip onto the cable; twist to screw together.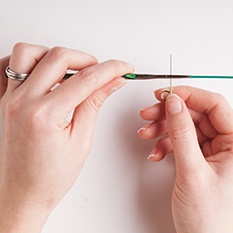 Step Two
Insert the cable key into the hole at the base of the cable. Hold onto the cable key to get a good grip before tightening the needle tip.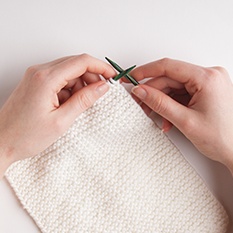 Step Three
Start knitting!
Tips and Tricks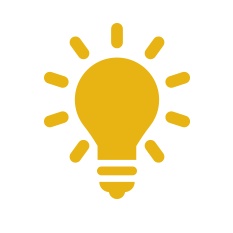 Easy Peasy Lifeline
A "lifeline" is a strand threaded through a row of stitches to help you rip back to a specific point if you make a mistake. Setting a lifeline can be a lifesaver, especially for intricate projects like lace shawls. Thread a thin strand of yarn (or even floss!) through the cable key hole and tie it to the cable. It will automatically thread through the next row of stitches as you knit. Untie before starting the next row and leave it in place as you continue.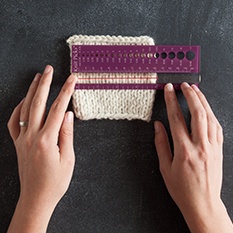 Mixing Gauge with Tips in the Round
A smaller gauge tip for you left hand can help stitches knit off more easily, which is especially useful for tight knitters. Or you can use a smaller gauge tip to more easily pick up stitches. Remember, the size of your stitches comes from the needle doing the knitting (the needle in your dominant hand); a smaller needle in your non-dominant hand shouldn't affect your gauge when knitting in the round.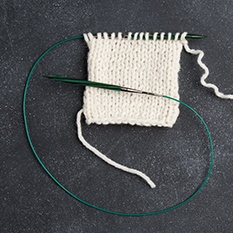 Knit Flat with Circulars
When knitting flat projects on circulars, most of your stitches are on your cable at any given time. For larger projects, your work in progress can rest in your lap instead of hanging off the end of straight needles, which means less strain for your hands and arms.
Magic Loop Tutorial
This fabulous technique allows you to create a small tube, such as a sock, on one circular needle!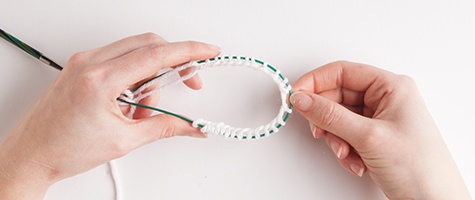 Step One
Divide your stitches in half. Fold the cable so that half of the stitches are on one side and half on the other.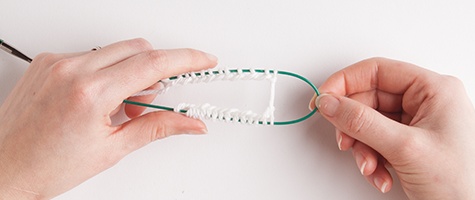 Step Two
Pull on the bit of the cable that appears between the two groups of stitches.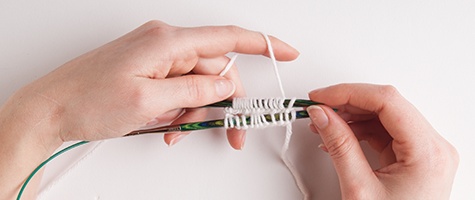 Step Three
Slide the two groups of stitches down to their respective needle tips. With the needle tips parallel and pointing to the right, your working yarn will hang from the back stitches.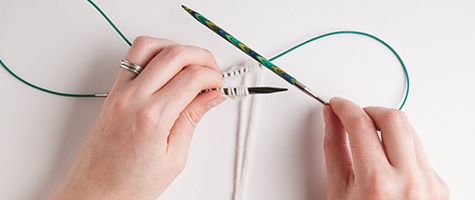 Step Four
Pull on the needle tip that is holding the back stitches, and draw up enough slack on the cable to allow you to use the needle tip to work the stitches on the front needle.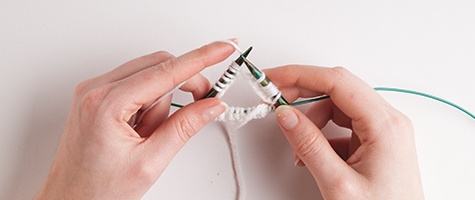 Step Five
Join and work all of the stitches on the front needle.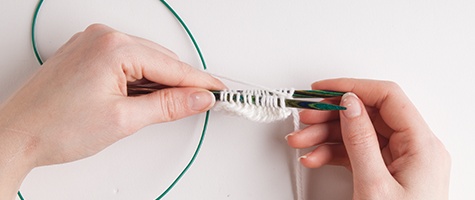 Step Six
Slide the two groups of stitches back down to their respective needle tips. Repeat as many times as needed.
How to use Knit Picks Interchangeable Needle Set
Back to Top