Yarn Weight
Perhaps one of the most confusing things for new knitters is the concept of yarn weights. Yarn weight refers to the thickness of the yarn strand and is a good place to start when choosing your project. A heavier yarn will make a thicker, bulkier project and a finer weight is best for lightweight garments and accessories. A basic understanding of yarn weights will ensure you get the right density and drape in your finished project!
Lace
Lace weight yarn is very fine (any yarn thinner than fingering weight can qualify as lace weight) and is best for creating delicate, web-like items such as shawls. Gauge is flexible with lace weight yarns since a lot of the structure and size is determined by how the finished piece is blocked. Knit with the smallest needle sizes for tight, opaque fabric and large sizes (US 6 or larger) for an open gossamer effect.
Fingering
Fingering weight yarn is often used for socks, lightweight sweaters and accessories, and Fair Isle or colorwork patterns. Fingering weight is sometimes listed as "baby yarn" or "sock yarn" and is about double the weight of lace yarn. Fingering weight yarns are typically knit on US 1-4 needles.
Sport & DK
Sport weight yarn and DK (double knitting) weight yarn are often viewed as interchangeable, but they do have a slight difference. Sport weight yarn is a teeny bit lighter or finer than DK weight. Use these weights for mid-weight socks, accessories, shawls, wraps, and sweaters. Sport weight yarns are typically knit on US 3-5 needles, and DK weights on US 5-7 needles.
Worsted
Worsted weight yarn is the most widely available weight of yarn and the most frequently used! At double the weight of fingering yarn, worsted weight yarn is great for knitters of all skill levels and can be worked into nearly anything. Ideal for accessories and sweaters with moderate density, worsted weight yarns are typically knit on US 6-9 needles.
Heavy Worsted/Aran
Heavy worsted/Aran weight yarn is just slightly heavier than worsted weight yarns. Good for the same range of projects as worsted weight and will result in a slightly heavier fabric with more structure, heavy worsted/Aran weight yarns are typically knit on US 7-9 needles.
Bulky
Bulky weight yarn is about twice as thick as worsted weight yarn and four times the size of fingering weight yarn. Bulky yarns can be worked up quickly on large needles, making them perfect for instant knitting gratification projects, like warm sweaters, throws, felted items, or home decor where structure and warmth are a priority. Bulky weight yarns are typically knit on US 10-11 needles.
Super Bulky
Super bulky is the ultimate for making fast knits. At fewer than 3 stitches per inch, accessories and home décor projects can knit up in a couple of hours. The thicker strands of super bulky yarns make for projects that knit up densely with large stitches for a novel effect and visual interest. Super bulky weight yarns are typically knit on US 15 needles.
Fiber Type
Hand knitting yarns can be divided into three basic categories: animal fibers, plant fibers, and synthetic fibers. Each fiber type has its own characteristics around elasticity, durability, washability, and heat retention, important factors to consider when choosing yarn for each project.
Wool
Naturally sourced from mammals such as sheep or goats, wool is a protein fiber known for its uncanny ability to withstand a great deal of use. Among its laundry list of beneficial attributes, wool boasts antibacterial and antimicrobial properties, while remaining breathable, insulating, cooling, and also water resistant. It's no wonder we love wool fibers for both garment and home décor projects!
Cotton
Cotton is a plant-based (cellulose) fiber with defining characteristics of strength, versatility, and impressive durability. Even when exposed to hot water washes, cotton emerges unscathed! Lightweight and breathable, cotton knitting yarn isn't elastic, which means it won't spring back into shape the way wool or synthetic fibers can. Expect drape and crisp stitch definition for any cotton project.
Acrylic
Synthetic, or man-made fibers are hypoallergenic, machine washable, and extremely durable! Acrylic is perfect for home decor and accessory projects with structure and stitch definition. Similar to wool, acrylic has elasticity and recovery, ideal for afghans and accessories that will stay true to size after extensive washing and use.
Back to Top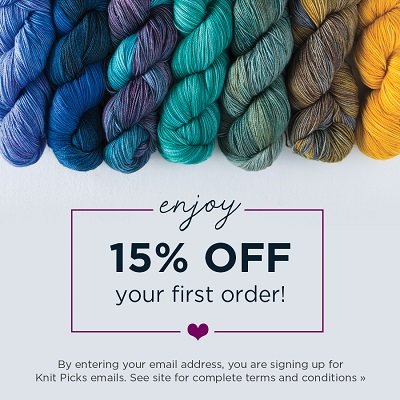 Your email has been added to our list! Please check your inbox for a welcome message and your code for free shipping!