Yarn Weight
Perhaps one of the most confusing things for new knitters is the concept of yarn weights. Yarn weight refers to the thickness of the yarn strand and is a good place to start when choosing your project. A heavier yarn will make a thicker, bulkier project and a finer weight is best for lightweight garments and accessories. A basic understanding of yarn weights will ensure you get the right density and drape in your finished project!
Fiber Type
Hand knitting yarns can be divided into three basic categories: animal fibers, plant fibers, and synthetic fibers. Each fiber type has its own characteristics around elasticity, durability, washability, and heat retention, important factors to consider when choosing yarn for each project.
Wool
Naturally sourced from mammals such as sheep or goats, wool is a protein fiber known for its uncanny ability to withstand a great deal of use. Among its laundry list of beneficial attributes, wool boasts antibacterial and antimicrobial properties, while remaining breathable, insulating, cooling, and also water resistant. It's no wonder we love wool fibers for both garment and home décor projects!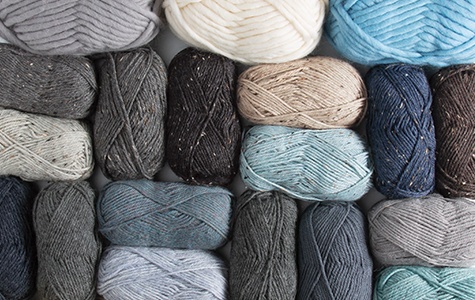 Luxury Yarn
Luxury yarns, by definition, include fibers that are difficult to find or gather, and are exquisite to touch. Rare and lovely, yarns made from these specialty fibers are a treat to knit and wear.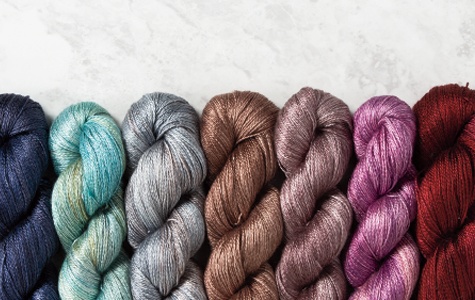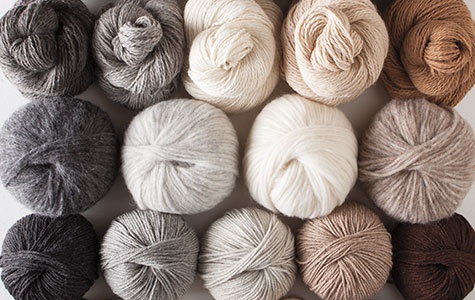 Alpaca: Shorn from Peruvian Alpacas, each fiber is hollow which makes it incredibly lightweight, strong, and warm. Alpaca's greatest feature is that for most wearers, it can be worn next to the skin comfortably and is an alternative to sheep wool yarns. Less expensive than cashmere and with the uncanny strength of mohair, alpaca is a highly popular and functional choice for many knitters and crocheters.
Silk: Known for its stunning sheen, high tensile strength, and warmth, silk is a beautiful fiber on it's own or when combined with other fibers for luxury blends. Harvested from silk cocoons, the strands are then spun into silk thread and yarn. Despite having such a delicate feel and appearance, silk fibers are long, incredibly strong, and produce quite a bit of warmth when worn. They have a beautiful finish and shine to them.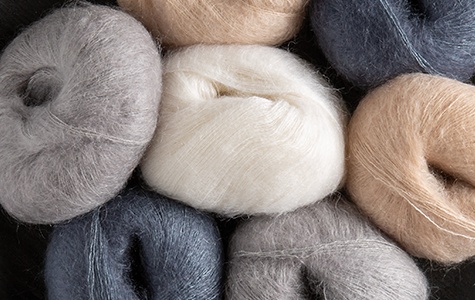 Mohair: Shorn from Angora goats, mohair is lustrous, strong, and resilient. Mohair is prized for the excellent "halo" the long, airy fibers add to any project.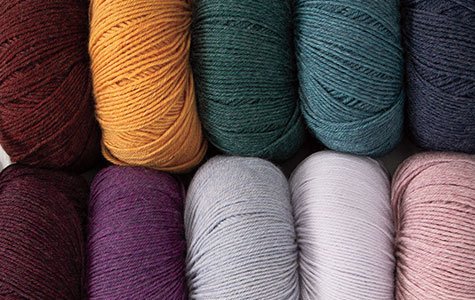 Cashmere: Universally renowned for having the softest hand of virtually any fiber, cashmere is the finest fiber when it comes to creating sophisticated garments and accessories. If you think this yarn feels soft in the skein, wait until you hand wash your project. Cashmere yarn blooms after blocking or washing finished garments for a supremely soft and warm fabric.
Cotton
Cotton is a plant-based (cellulose) fiber with defining characteristics of strength, versatility, and impressive durability. Even when exposed to hot water washes, cotton emerges unscathed! Lightweight and breathable, cotton knitting yarn isn't elastic, which means it won't spring back into shape the way wool or synthetic fibers can. Expect drape and crisp stitch definition for any cotton project.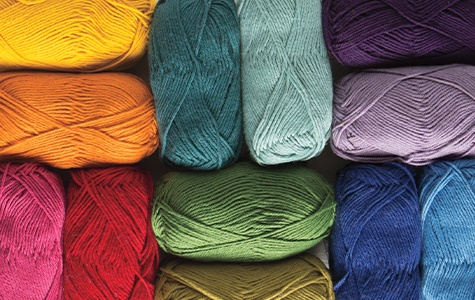 Acrylic
Synthetic, or man-made fibers are hypoallergenic, machine washable, and extremely durable! Acrylic is perfect for home decor and accessory projects with structure and stitch definition. Similar to wool, acrylic has elasticity and recovery, ideal for afghans and accessories that will stay true to size after extensive washing and use.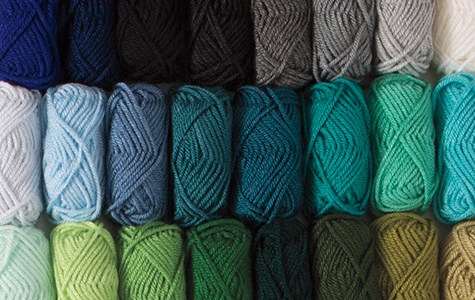 Back to Top