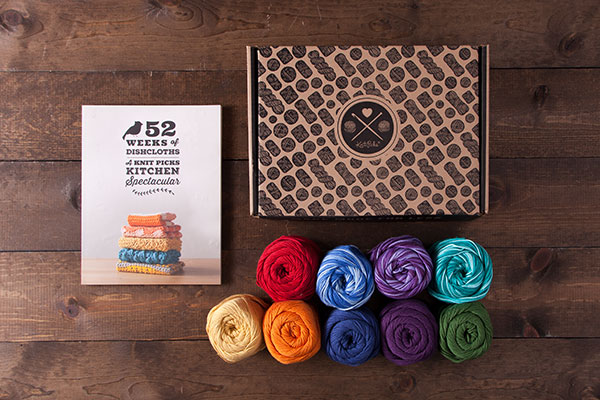 Dishcloth Boxed Kit - Rainbow
$49.99
Try out a color curated selection of Knit Picks' popular 100% Cotton kitchen-friendly yarn with an exclusive pattern book that contains a dizzying array of 60 dishcloths to choose from. Dishie is a great practical yarn for all of your home and kitchen knits, from dish cloths and towels to rugs and home decor, and yet soft and versatile enough for long-lasting, warm weather garments.
Boxed Kit includes
6 full-sized balls of Dishie (1 each of Fiesta Red, Creme Brulee, Clementine, Mulberry, Blue, and Jalapeno),
3 full-sized balls of Dishie Multi (1 each of Deep Blue Sea, Grape Purple, and Aquarium), and
Knit Picks exclusive collection, 52 Weeks of Dishcloths.
Total Yardage
:
1,710
Item No. 44472