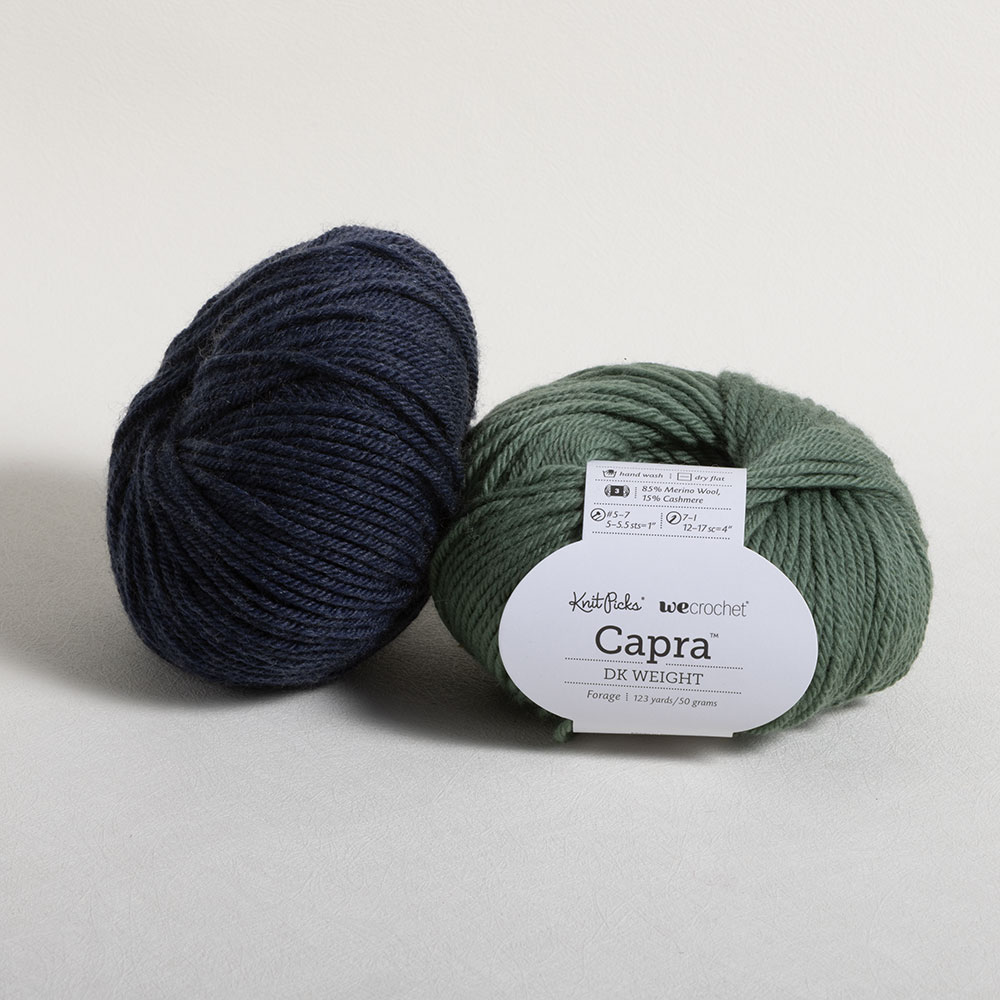 Fiber Content:
85% Merino Wool, 15% Cashmere
Weight:
DK Weight
Knitting Gauge:
5 - 5.5 sts = 1" on #5-7 needles (3.75mm- 4.5mm)
Crochet Gauge:
12-17 sc = 4" on 7-I hooks
Yards:
123
Grams:
50
Put Up:
Ball
Care:
Hand Wash/Dry Flat
Purchase Needles & Hooks

Capra DK Yarn
$5.00 50g / Ball
Original Price: $7.99
No need to panic - Capra isn't going away for good! We are working on a color refresh, and will have fabulous new colors for you before the new year.

Capra, our elegant Merino and cashmere wool yarn, is as pleasurable to knit with as it is to wear. Available in a DK weight, Capra is a perfect weight for garments intended to be worn next to the skin, or special cold weather accessories. If you think this yarn feels soft in the skein, wait until you hand wash your project! After the yarn blooms, you won't be able to keep your hands off of Capra!
Retail: $7.99
Patterns
Customer Picks
Podcast
07-11-2018 1:23pm

06-28-2018 7:47am

03-04-2018 11:27pm

10-10-2017 11:16pm

07-02-2017 10:53am

05-05-2017 1:59pm

02-05-2017 1:41pm

08-29-2016 2:15pm

07-28-2016 7:22pm

07-10-2016 5:26pm

05-25-2016 6:35am

04-27-2016 9:13am

01-14-2016 10:50am

01-08-2016 10:54am

01-03-2016 5:46pm

11-20-2015 10:34am

09-07-2015 11:06am

08-01-2015 2:05pm

07-02-2015 4:52am

06-16-2015 9:26pm

12-17-2014 9:54pm

12-04-2014 1:45pm

07-06-2014 6:00pm

04-05-2014 2:10pm

03-25-2014 9:14pm

01-16-2014 10:35am

01-01-2014 8:57pm

12-20-2013 3:53pm