Megan Tischner's patterns
Megan works as a program coordinator at the University of Cincinnati. She loves all knitting techniques, but lacework and bead knitting hold a special place in her heart. Raised in southeast Michigan, she now lives in Cincinnati with two cheagles (chihuahua-beagle mixes) and a die-hard baseball fan.
You can find Megan on Ravelry as AtalantaNyx.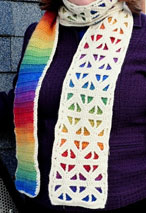 Pergola Crochet Scarf
$1.99