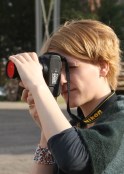 Jana Huck's patterns
Jana Huck is a knitwear designer based in Luebeck, Germany. She is mostly known for her patchwork interpretations of the symmetry drawings by Dutch graphic artist M. C. Escher. Jana also designs garments and accessories and blogs in English and German at www.janukke.com.
Brandie Brunner is a freelance conference interpreter and translator who lives in the United States. Also an avid knitter, she met Jana Huck through a test knit on Ravelry. Jana's attention to detail was well matched to Brandie's linguistic flair. The two developed an ongoing designer-tech editor collaboration and a transatlantic friendship soon blossomed.
This is the first design that Brandie and Jana have worked on together right from the first swatch.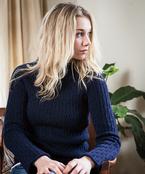 Rivulets
$5.99