Home
/
Patterns
/
eBooks
/
The Strange Case of the Magicians Cabinet eBook The Strange Case of the Magicians Cabinet eBook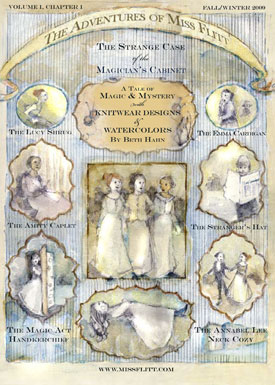 The Strange Case of the Magicians Cabinet eBook
$12.00

The Strange Case of the Magicians Cabinet is the first installment of the series, The Adventures of Miss Flitt. Created by Beth Hahn, this unique series follows Emma Flitt in a Victorian New York filled with magicians, clairvoyants, charlatans and pick pockets in order to unravel the mysterious disappearance of her sister, Lucy. Follow along as this mystery unfolds with character-based knitting patterns designed by author Beth Hahn. This enchanting story is brought to life with beautiful water-color illustrations also done by Hahn.

The Strange Case of the Magician's Cabinet is the first chapter in this mystery series and includes six designs that are inspired by Emma and her adventures. Inspired by the main character, the Emma Cardigan is a lace sweater that is classic in style and works beautifully as a special occasion piece or as an everyday wardrobe item. The Lucy Shrug is a design based on the character of Emma's sister, Lucy and is a one-piece shrug that shows off delicate lacework. The Amity Caplet is a soft, Victorian Era inspired capelet that is knit flat from the bottom up and features a lace pattern that transforms into feather and fan at the neckline. The Magic Act Handkerchief transforms a regular handkerchief with the addition of a finely knit lace edging. The Annabel Lee Warmer is a soft and comfy cowl that is sure to keep you extra warm in cold weater and fits perfectly beneath a coat or over a sweater. A contribution from Maxcine DeGouttes (owner of Stitch Therapy in Brooklyn, NY), Koot is the final design in this eBook and features a basketweave motif based on the African shepherd hat. This unique collection of patterns comes with both written and charted instructions.
Does not count toward $50 free shipping.

Adobe® Acrobat®
required.
Please note: Downloadable eBooks do not qualify for Free Shipping.
After ordering an eBook you will receive a download link in your order confirmation email.