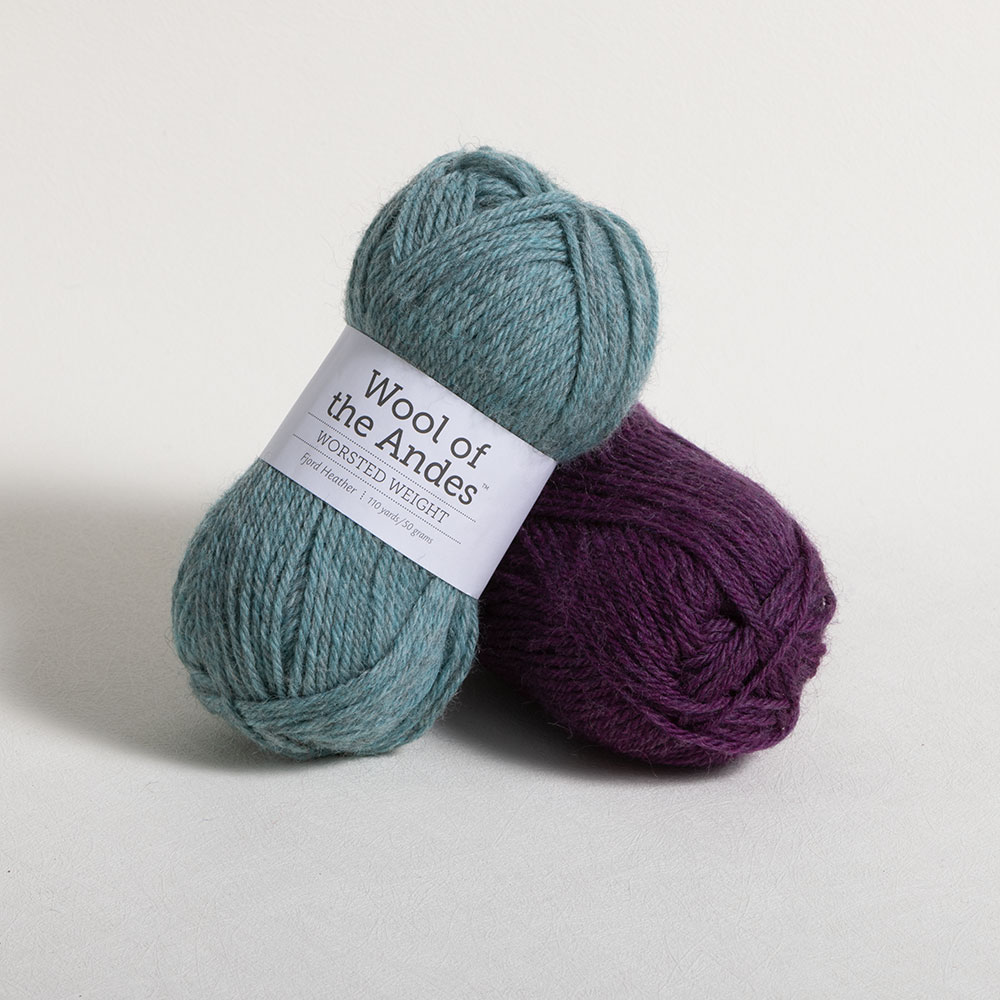 Fiber Content:
100% Peruvian Highland Wool
Weight:
Worsted Weight
Knitting Gauge:
4.5 - 5 sts = 1" on #6 - 9 needles (4.0mm-5.5mm)
Crochet Gauge:
11–14 sc = 4'' on I - K hooks (5.5 mm-6.5 mm)
Yards:
110
Grams:
50
Put Up:
ball
Care:
Hand Wash/Dry Flat
Purchase Needles & Hooks
Wool of the Andes Worsted Yarn
$2.79 50g / ball
Our classic worsted wool yarn is spun and plied carefully to achieve a wonderfully balanced twist. A sturdy yet soft yarn with excellent stitch definition and heirloom durability. Peruvian sheep are a cross between Corriedale (for the sturdiness) and Merino (for the softness), producing a strong fiber with an excellent softness quotient for a wide variety of uses. Felts beautifully.
Patterns
Customer Picks
Reviews
Video
"This yarn knits up great, I love knitting with it! I made a sweater with it that has become one of my favorites. It's hard to believe it only costs $1.99 a ball. I've bought very expensive, high-end yarn that's not half as soft Wool of the Andes." Daily Knitter, Rebecca
"Wool of the Andes is a reasonably priced yarn with a nice selection of colors. It has 110 yards on the skein. When I first knit with it, I thought it was a thin worsted. However, it knitted to a worsted gauge. First impressions can be deceiving! It's a great yarn for fulling. The fabric is sturdy enough for a tote bag." Daily Knitter, Janice
"Knit Picks- great yarn; great prices. I used Wool of the Andes for my Enchanted Forest Fingerless gloves and it is strong, the colors are vibrant, and the cost was low. I used 3 skeins for two gloves, and it cost me $2.19 per skein plus shipping- under $10!" www.zoescheffy.blogspot.com, February 2009
"I just wanted to send you some kudos. On his 40th birthday my brother asked me to make him a new sweater, to be delivered by his 41st. I quickly found an Aran sweater on your site, and ordered a color card of Wool of the Andes so he could pick the color. I delivered it to him today. The first thing he said when he picked it up was 'Wow, this is really soft.' He put it on, and the first thing he noticed was that it did not itch. He is very sensitive to wool, and expects it to be itchy. "Does it have something special, like lambs wool, or (if he knew to say 'merino' at this point, he would have said that). No, it was just your state-of-the-art-and-immensely-affordable yarn. I don't know how you pull off such high quality at such low prices, but thank you!" -Elena L., Knit Picks customer
As seen in Creative Knitting, November 2008, Cabled Wristlets

As seen in Knit N Style, October 08, Women's Henley Pullover Pattern

As seen in Knitty, Summer 2005, Ripley Pattern

As seen in Knitty, Summer 2005, Cigar Pattern
01-12-2019 2:30pm

12-19-2018 9:45am

12-14-2018 5:09am

11-06-2018 1:02pm

10-28-2018 1:47pm

See All Reviews