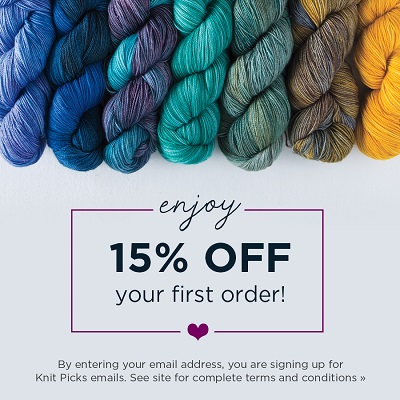 Your email has been added to our list! Please check your inbox for a welcome message and a code to get free shipping on your first order.
Why, hello there! Your email is already on our list, so you're one of the first to know about Knit Picks exclusives, sales, and offers.
No, thanks!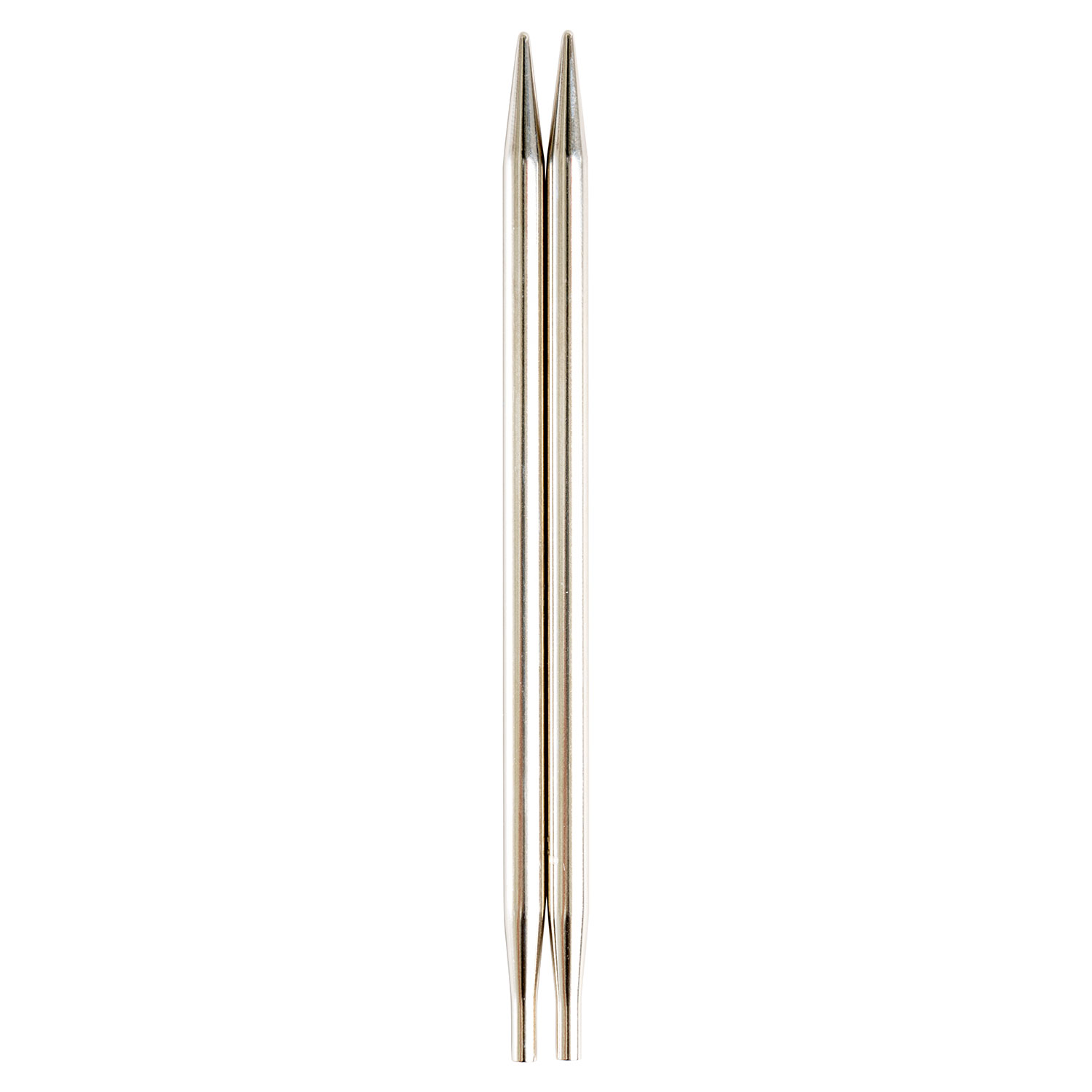 Options Interchangeable Nickel Plated Circular Knitting Needle Tips
$4.39 - $7.99
Our nickel-plated glass-like surface allows your stitches to move freely while the hollow brass tube is extremely lightweight for hours of comfortable knitting. The sharp, gradually tapered knitting needle points make working stitches a breeze, slipping easily between stitches so even complicated cables move along quickly. Available in US sizes 4-17. Set of two. Needle length is 4 3/4".

Interchangeable cables are available in 24", 32", 40", 47" and 60" lengths. View the entire Options Interchangeable Knitting Needle family.

To learn more about Knit Picks Options needles, click here.
Related Items
Reviews
Tutorials
"I'm going to cut right to the punchline: the Knit Picks Options set has earned a permanent place in my knitting bag. Why? 1. The tips are pointier than any other needle I've ever used. They will slide right through a strand of yarn if you're not paying attention, but mostly they're just a lovely, precise tool to work with. 2. The tips screw on to the cables and don't come loose until you unscrew them. 3. The cable/tip join is smooth. 4. The cable is VERY thin, flexible and doesn't fight back." Knitty, Fall 2006
"I like the Knit Picks needles for my speed knitting because they have very special long and lean tips and especially sharp points which are essential in speed knitting." Miriam Tegels, World's Fastest Knitter
"I use the Knit Picks Options nickel plated circular needle set, and I love them. The joins are smooth and the needles are easy on the hands, making the knitting so much more enjoyable." Kelly Z., Knit Picks customer
"I want to express how much I enjoy your store and your podcasts. The podcasts have been a source of information, inspiration, enthusiasm, personal sharing and humor. Thank you for introducing me to so many wonderful knitters, books and techniques. Your interchangeable needles are the best to my mind." Margaret K., Knit Picks customer
"For years the only needles I wanted to use were [your competitors]; expensive [your competitors]. Then I tried your nickle plated needles at a fair and reasonable price, and they are every bit as good as the competition. Perhaps even better as the cable seems to be softer and more flexible. Thank you for these wonderful needles." Lindy B., Knit Picks customer
"I've been a customer of yours from before you sold your own brand of yarn. When you came out with your own interchangeable needle set I was a bit skeptical. I'd been using [your competitors] needles for quite a while and was happy with them. I have to admit I scoffed at the idea of a tiny wrench to tighten the cable/needle join. But I discovered the problem with [your competitors] needles is that plastic wears out. I'ma very "active" knitter and often I'd be knitting away and suddenly the tip and cable would separate and I'd have to scramble to pick up stitches. This started happening pretty regularly. It wasn't just a faulty batch of cables and tips either. Anyway, I then started knitting cautiously, which is the wrong thing to do: never be timid in your endeavors. So I decided to try your needles, tiny wrenches and all. I think they're great. I can furiously knit away while I'm watching a 1950's sci-fi movie and never lose any stitches. So I'd just like to say, I was wrong to scoff." Sara B., Knit Picks Customer
"I just want you to know how much I love your knitting needles. I have used [your competitors] Interchangeables for years and I like them, but yours are better! I keep adding to my collection. I love the metal needles because they are slick but they don't click against each other. (That sound annoys my husband.) Your wood needles are delightful to the touch and give me a happy, warm feeling when I use them. I am talking about circulars, which I usually use. I use circulars for wrist warmers and hats instead of double pointed which always seemed awkward to me. (Double pointed needles are like knitting in the Stone Age. Which doesn't make sense because they would have been made out of stone and really impractical.) Thank you, thank you, thank you! I know that I am one of the millions who love your needles but I still wanted to tell you." Cathrine M., Knit Picks Customer
"Before I left Toronto in 2007 a friend of mine offered to include a set of nickel-plated, interchangeable circular knitting needles for me with her order. She gave me the set of needles when they arrived, I moved to Spain and didn't unpack my knitting until last month. At which point I finally took the circular needle set out of its' original packaging and proceeded to continue with my cardigan I began 1-1/2 years ago. It felt wonderful! I don't know what I was waiting for.

Much to my surprise the circulars from Knit Picks are absolutely wonderful to use. They are lightweight, have nicely pointed tips, very easy to change sizes and the flexible cables don't have a mind of their own -- so easy to use!" Nora B., Knit Picks Customer
02-24-2019 6:47pm

12-07-2018 4:47pm

11-18-2018 10:30am

10-19-2018 6:37pm

04-22-2018 11:31am

See All Reviews