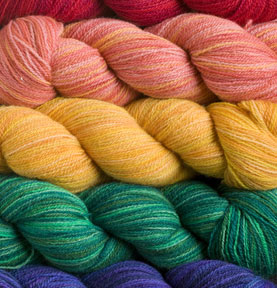 Fiber Content: 100% Merino Wool
Weight: Lace Weight
Knitting Gauge: Lace Weight
Crochet Gauge:
Yards: 440
Grams: 50
Put Up: hank
Care: Hand Wash/Dry Flat


Purchase Needles & Hooks
Shadow Tonal Lace Yarn
$5.27 50g / hank
Elevate your knitting to art. The monochromatic shades in Shadow Tonal will give your knitting the appearance of watercolor. Each skein has been carefully hand painted, to create an even and consistent distribution of colors. The variegation is subtle enough to highlight complex stitch patterns, but still add interest as you knit through the shifting colors. The interplay between light and dark will truly add the appearance of shadows to your project!
Select a color below to add to cart:
Retail: $6.59
Patterns
Customer Picks
Reviews
Video
Melissa discusses how we plan and develop colors for handpainted yarn in podcast episode 136.