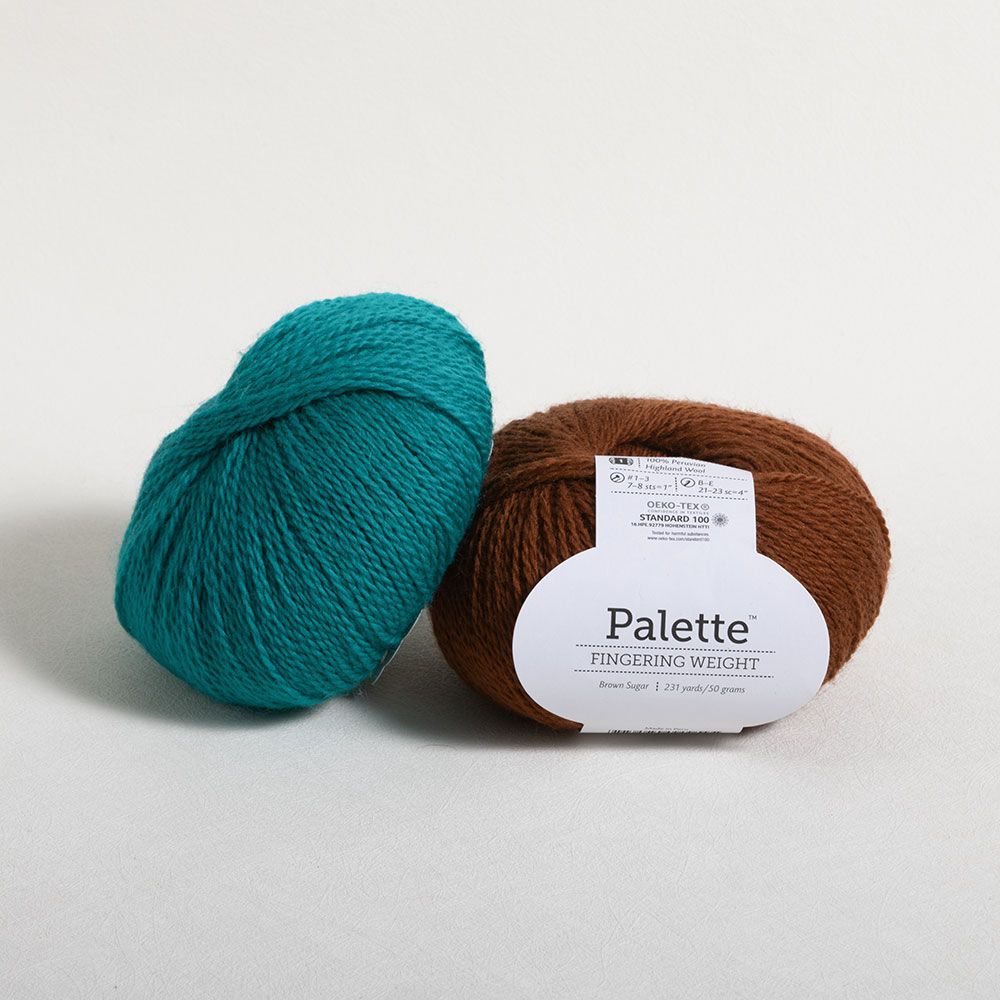 Fiber Content:
100% Peruvian Highland Wool
Weight:
Fingering Weight
Knitting Gauge:
7 - 8 sts = 1" on #1 - 3 needles (2.25mm-3.25mm)
Crochet Gauge:
21 – 32 sc = 4'' on B - E hooks (2.25mm-3.5mm)
Yards:
231
Grams:
50
Put Up:
ball
Care:
Hand Wash/Dry Flat
Purchase Needles & Hooks
Palette Yarn
$2.44 - $3.49 50g / ball
Original Price: $3.49
You could call it our practical magnum opus. Palette is Knit Picks' beloved 100% wool, fingering weight rainbow—expansive, ever-growing and ever-reliable. Designed especially for Fair Isle and colorwork, you'll find hues that span the entire gradated wheel, including supporting neutrals and a full complement of heathers. Consider Palette for warm and durable socks, slim-fit sweaters or felted items galore; it'll quickly find a permanent place in your stash and never disappoint.

Also available as natural undyed yarn so you can create your own colorways.

Select a color below to add to cart:
Retail: $3.49
Patterns
Customer Picks
Reviews
"Since I've discovered the joys of colorwork knitting, Palette has become my go-to yarn. It is softer than traditional colorwork wool, making it perfect for my itch-sensitive skin, but it's still toothy enough to making stranding and steeking a breeze. Last fall I used it to make my first ever Fair Isle sweater, and this fall I'm hatching plans for lots of intricate two-color mittens."
-Melissa B., Knit Picks Art Director
"Palette is such a great yarn for stranded mittens. It's really cozy and soft and available in some seriously amazing colors." -Ann Marie, Knit Picks customer
"Apparently, Knit Picks Palette is kind of awesome for knitting colorwork. It's nice and sticky, and it blocks beautifully. Did I mention that when placed over a hot air vent, it seemed to block in about an hour? No? Well it did! This of course pleased me so very much!" -Marissa S., Knit Picks customer
"I just bought three of the Fair Isle totes sample packs, one of each color, and I can't tell you how much I love them!!... The yarn is beautiful and soft, and knits like a dream. This is probably some of the best yarn I've ever knit with!!! I am sososososososo happy with this. Thank you so much for putting this pack together!!!!" April L., Knit Picks customer
02-12-2015 11:36pm

02-05-2015 8:32am

01-25-2015 3:16pm

01-19-2015 9:08pm

12-28-2014 3:32pm

12-11-2014 2:03pm

12-09-2014 6:33am

12-07-2014 6:06pm

10-15-2014 4:11pm

09-14-2014 1:38pm

08-05-2014 11:20am

07-23-2014 3:18pm

07-21-2014 12:28pm

07-06-2014 4:20pm

05-22-2014 11:55am

05-08-2014 12:19pm

05-08-2014 9:10am

04-15-2014 3:53pm

04-15-2014 11:32am

02-12-2014 9:37am

02-06-2014 4:31pm

01-27-2014 12:27pm

12-09-2013 11:35am

11-30-2013 2:54pm

07-30-2013 12:12am

07-14-2013 3:46am

06-04-2013 4:09am

05-27-2013 2:31pm

05-21-2013 7:23pm

05-12-2013 2:31am

04-01-2013 2:20pm