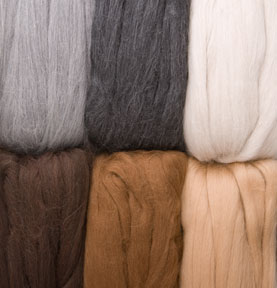 Fiber Content: 100% Wool
Weight: Unspun Roving
Knitting Gauge:
Crochet Gauge:
Yards:
Grams: 100
Put Up: 3.53 oz.
Care: Hand Wash/Dry Flat


Purchase Needles & Hooks
Full Circle Roving
$3.89 100g / 3.53 oz.
Original Price: $6.49
Take part in completing the cycle with Full Circle – a limited edition yarn that is made from recycled fibers! Full Circle roving is made by re-blending Merino, Fine Highland, and Highland wool fibers that would have otherwise been discarded. This allows the mill to reduce waste and conserve our valuable resources. The fineness of Merino wool with the loft and crimp of Peruvian Highland wools come together in a lovely selection of six splendid colors of Full Circle Roving, dyed in a beautiful assortment of natural shades. As with all Special Reserve yarns and fibers, Full Circle will only be around for a limited time!
Select a color below to add to cart:
Retail: $6.49