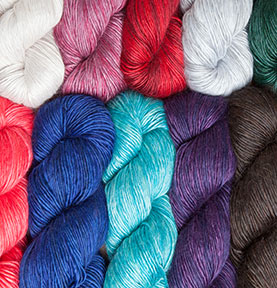 Fiber Content:
50% Baby Alpaca, 50% Mulberry Silk
Weight:
Fingering
Knitting Gauge:
7-8 sts = 1" on#1-3 needles
Crochet Gauge:
21-32 sc = 4'' on B-E hooks
Yards:
329
Grams:
100
Put Up:
Hank
Care:
Hand Wash/Dry Flat
Purchase Needles & Hooks
Diadem Fingering Yarn
$13.59 100g / Hank
Original Price: $16.99
The new crowning achievement of your yarn stash! Diadem is an ultra-luxe single ply fingering weight yarn with a very subtle differences in thickness – all while combining the plush softness of baby alpaca with the dazzling sheen of silk. Inspired by prized jewels and gemstones, these precious fibers are dyed in an eye-catching array of subtle semi-solid tonals, producing one-of-a-kind treasures that are rich with texture and depth.
Select a color below to add to cart:
Retail: $16.99
10-27-2014 12:46pm

10-16-2014 8:56am

10-15-2014 10:11am

09-13-2014 3:57pm

09-06-2014 7:35pm

09-04-2014 6:46pm

08-05-2014 2:21pm

06-03-2014 3:07pm

05-31-2014 10:08pm

03-29-2014 8:42am

03-01-2014 12:07pm

02-28-2014 10:01am

02-16-2014 10:22am

02-13-2014 1:59pm

02-06-2014 11:12am

01-16-2014 7:19pm

01-14-2014 2:55pm

01-07-2014 6:45pm

01-07-2014 7:05am

12-21-2013 11:31am

12-21-2013 12:21am

12-06-2013 12:34pm

12-04-2013 5:53pm

12-04-2013 9:07am

11-30-2013 4:25pm