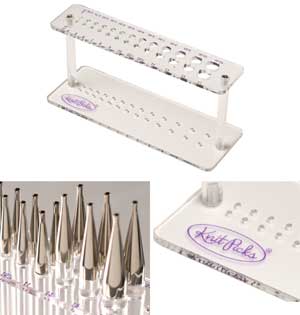 Options Needle Tip Stand
$12.99
Display your needles in an organized manner on your work surface. This acrylic stand will hold any of our Rainbow wood, Zephyr acrylic and nickel-plated needle tips. US sizes 4-17 are clearly marked on the holder so you can see at a glance the tips you need. 7" x2 1/2" x3 1/4". Easy assembly required, phillips head screwdriver needed.
Needle tips
sold separately.
Holds all tips for Options needles
Customer Picks
Inspiration
Alison blogged about how she developed the Options Needle Tip Stand.