free shipping on orders over $50*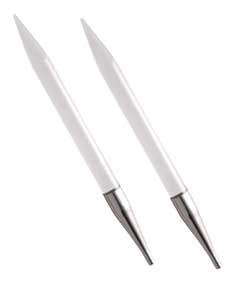 Options Interchangeable Zephyr Circular Knitting Needle Tips
$3.99 - $3.99
Our lightweight and slightly flexible Zephyr needles feel wonderful in your hands. They have the same sharp points and flexible cables as all our other Options needles. Perfect for the beginner knitter and fantastic for stress-free travel knitting. Available in US sizes 4-17, and needle tip length is 4 1/2 ". Set of two.

Interchangeable cables are available in 24", 32", 40", 47" and 60" lengths. The Options Zephyr Acrylic Interchangeable Needle Set includes sizes US 4 (3.50mm) through US 11 (8.00mm) plus two each of the 24" and 32" cables in a handy zippered clear case with pockets for needle tip storage. Or, view the entire Options Interchangeable Knitting Needle family.

To learn more about Knit Picks Options needles, click here.
Related Items
Reviews
Video
"These needles have it all—super slick and fast, stiletto like pointy tips, and so warm in my hands. The clear acrylic also makes it easy to see even the finest yarn, no matter the color…They just became available today and I ordered myself tips in all my favorite sizes!" Planet Purl August 2009
11-29-2013 5:10pm

11-28-2013 3:22pm

11-25-2013 1:04pm

08-01-2013 2:16am

07-25-2013 9:38pm

06-07-2013 4:50am

05-27-2013 11:49am