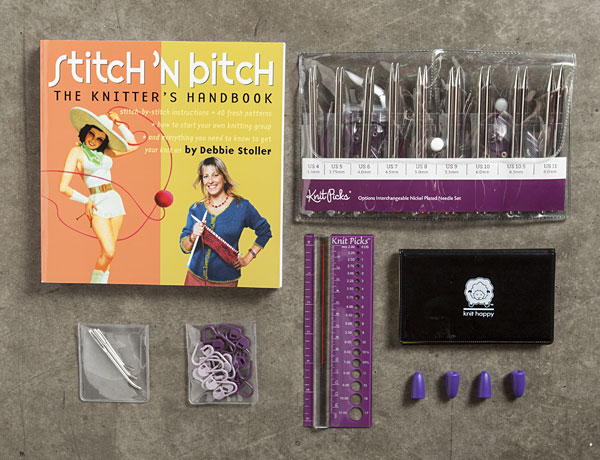 Beginner Knitter Tool Kit
$74.99
Ready to start knitting? Our Beginner Kit has all of the essentials plus Debbie Stoller's indispensable book to help get you started knitting and purling like a pro. You'll be prepared for almost any project with the Nickel Plated Interchangeable Needle Set while our selection of must-have tools and notions will help keep you organized.
The Beginner Knitter Tool Set includes:  
Nickel Plated Interchangeable Needle Set
Stitch 'n Bitch by Debbie Stoller
Locking stitch markers (20 ct.)
Bent tip tapestry needle
View sizer
Knit Happy Post-It pad
Point Protectors, large (2 sets)
$25 gift certificate for yarn
Gift card valid for yarn & fiber purchases only; excludes books, tools, patterns and shipping/handling fees. Limited to use for stock-on-hand; may not be used on backordered items or items shipped directly from the manufacturer. Regular shipping fees apply. Must be used in ONE single yarn order; any remaining unused credits will be rendered null and void if gift certificate amount exceeds order total. Cannot be used in combination with any other promo codes. No cash value. One time use only - expires one year from date of purchase. Promo code may be redeemed online or via phone/mail with assistance of a Knit Picks customer service representative.
| Tool Kit
Retail: $100.05
Item No. 82002