Shipping Deadlines for 2013 Holidays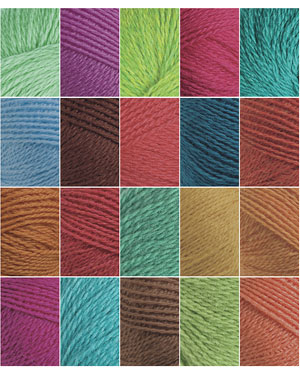 Let your next colorwork project be inspired by our new curated color sets of Palette! This sampler includes 20 balls of Palette in tropical inspired shades. Indulge in a range of solids and heathers that are inspired by sunsets, tropical islands and cool waters. Warm browns and oranges complement beautiful corals and red shades as well as soft pinks and purples while an array of tranquil shades of blues and greens complete this serene and summery palette. Create coordinating mitten sets, colorful hats, or challenge your color senses by working all of the sampler shades into a fair isle vest! Enjoy mixing and matching subtle shades with brighter pops of color as you find endless possibilities to spark your creativity with the Summer Palette Sampler.

This sampler also includes the Dragonfly Tam pattern by Victoria Johnston. Knitted completely in the round and featuring a corrugated ribbing, this tam uses 10 colors of Palette - perfect for your Summer Palette Sampler! Mix and match different coordinating shades from your summer sampler to give the Dragonfly Tam a rich but subtle depth that you will love.

The Palette Sampler in Summer includes twenty 50 gram balls of Palette and the pattern for the Dragonfly Tam by Victoria Johnston.
Sky (1)
Salsa (1)
Golden Heather (1)
Calypso Heather (1)
Doe (1)
Raspberry Heather (1)
Sweet Potato (1)
Semolina (1)
Mai Tai Heather (1)
Rose Hip (1)
Hazelnut (1)
Rouge (1)
Cosmopolitan (1)
Lady Slipper (1)
Tranquil (1)
Caribbean (1)
Alfalfa (1)
Limeade Heather (1)
Marina (1)
Pistachio (1)

Finished Size: 11" in diameter

You will need Size 2 (2.75mm) 16" circular needles, Size 3 (3.25mm) 16" circular needles, one set of size 3 (3.25mm) 6 inch double pointed needles or sizes to obtain gauge.

Notions: Stitch Markers, Tapestry needle, 11 inch dinner plate to block tam
Item No. 41025