free shipping on orders over $50*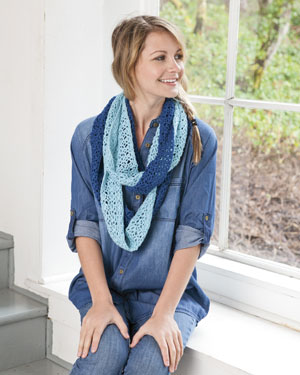 Double Twist Cowl Kit - Blue
Long and luxurious, the Double Twist Cowl is the ideal layering accessory for any season. Made up of two individual crocheted scarves of contrasting colors, the individual pieces are then linked together to create a unique look. Whether you wear it long or wrap it a few times for extra warmth, the versatility and style of this design will have you reaching for the Double Twist Cowl season after season.
The kit includes four 50 gram balls of Gloss DK along with the pattern for the Double Twist Cowl:
You will need 6.50 mm crochet hook or size needed to obtain gauge and a yarn needle.
Finished Measurements: (once scarf ends are joined) Unblocked – 32" (163 cm) x 4.5" (11 cm); Blocked – 37.75" (192 cm) x 6" (15 cm)
Item No. 41188