free shipping on orders over $50*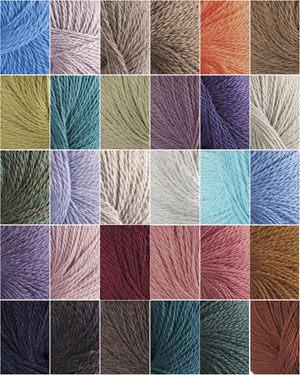 We managed to pack even more color into our Palette yarn line up! With 150 colors of Palette to get inspired by, the Palette 2012 Update Sampler brings together the 30 new colors of Palette that debuted for Fall 2012. Mix and match shades to create personalized color themes for intricate fair isle sweater or experiment with unique color combinations for coordinating hat, scarf, and mitten sets. For quick projects, use Palette to work up small toys and amigurumi dolls or experiment with different embroidery techniques in Palette to add a touch of color and texture to your next project.
Whether you want to update your 120 sampler to include the full range of new colors or you simply want to indulge and expand your Palette collection, this sampler is sure to spark your color creativity!
The Palette 2012 Update Sampler includes one ball of each new color added for Fall 2012, for a total of 30 balls of Palette (50g/each) and includes the following colors:
Abyss Heather
Brown Sugar
Toffee
Victorian
Tea Rose
Lingonberry Heather
Ice Lily
Seraphim
Urchin
Shire Heather
Pool
Haze Heather
Hare Heather
Finnley Heather
Wonderland Heather
Ciel
Douglas Fir
Lichen
Seafaring
Sea Grass
Comfrey
Indigo Heather
Gosling
Stellar Heather
Shoal
Lynx Heather
Wheat Heather
Cayenne
Briar Heather
Puma Heather
 
Item No. 41171