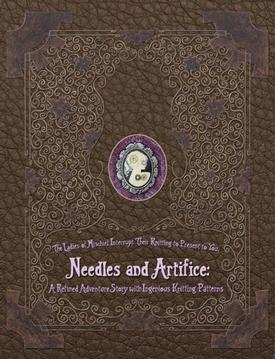 Needles and Artifice eBook
$16.95

Needles and Artifice is not for the faint of heart; rather, it is a guide to nurture the adventurous potential in us all! In your hands is an original story written by the Ladies of Mischief, recounting one of their most grand adventures. As you travel with them through thrilling quests and exotic locales, you will be rewarded with an outstanding collection of 23 unusual, striking, and engaging knitting patterns. Each chapter of the tale brings new personalities, flavors and perspectives to these designs. Just as we have been inspired by the Ladies and their bold endeavors, so too shall you. And in this spirit we encourage you to invent, modify, and re-imagine these pieces to your heart's content. Where will the journey take you

Please Note: eBooks are only available as a PDF download.

Does not count toward $50 free shipping.

Adobe® Acrobat®
required.
Please note: Downloadable eBooks do not qualify for Free Shipping.
After ordering an eBook you will receive a download link in your order confirmation email.