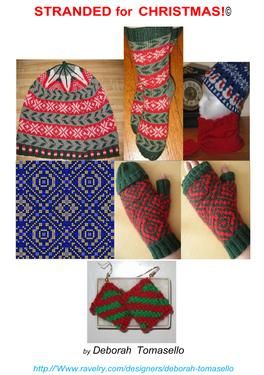 Stranded for Christmas eBook
$12.99

"I rarely - almost never - receive knitted items for Christmas. I am sure this is because I am a knitter myself...this is sad. People (and I am a people!) are thrilled to receive uniquely hand-crafted and thoughtful gifts, like stranded hand-knit socks, hats and mitts. Knitted colorwork items are treasured long after their practical usage has worn out, if it ever does. Far more valuable than mere accessories to protect against the cold of winter, these can be precious works of art."

Stranded for Christmas presents six designs for hats, mitts, stockings and earrings (!) that will be treasured long after the tree goes brown and crunchy. Along with patterns and charts, take advantage of the unique beauty of eBooks with the handy video tutorials linked throughout.

Does not count toward $50 free shipping.

Adobe® Acrobat®
required.
Please note: Downloadable eBooks do not qualify for Free Shipping.
After ordering an eBook you will receive a download link in your order confirmation email.