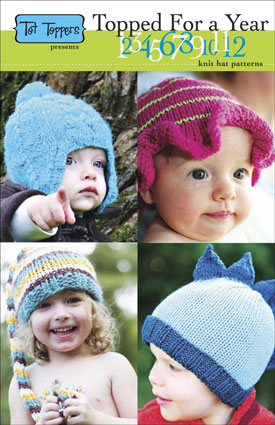 Topped for the Year eBook
$16.00

Topped For a Year is a wonderfully adorable collection of hats, caps and other toppers for your little ones! These truly creative hats combine simple design with sweet embellishments that make them one of a kind. These hats are as fun and imaginative as the babies and children that they are made for. From the Roar Stegosaurus Hat to the Master Charles Cabled Ear Flap Hat - there is something for every personality in this cute collection. And if you want to match your little one, several of the hats in this collection are sized all the way through adult measurements! Perfect for keeping little heads warm on chilly days as well as protecting children's delicate skin on hot summer days - you will be knitting these quick knits in no time, keeping the little ones Topped For a Year!
Does not count toward $50 free shipping.

Adobe® Acrobat®
required.
Please note: Downloadable eBooks do not qualify for Free Shipping.
After ordering an eBook you will receive a download link in your order confirmation email.
Included Patterns
Related Items