Productive Spindling
explores popular top-whorl, bottom-whorl, and Turkish spindles, getting you started and then amping up your techniques for efficiency—with a few tricks that make sure productivity look cool!
Spindlers will find many useful tips for all kinds of fiber, on spindle choice, drafting, joins, plying, and finishing.
Productive Spindling
is packed with photos to show technique, spindles, yarn, and finished items by the author and the worldwide spinning community. 50 pages
Retail: $18.00
Item No. 31521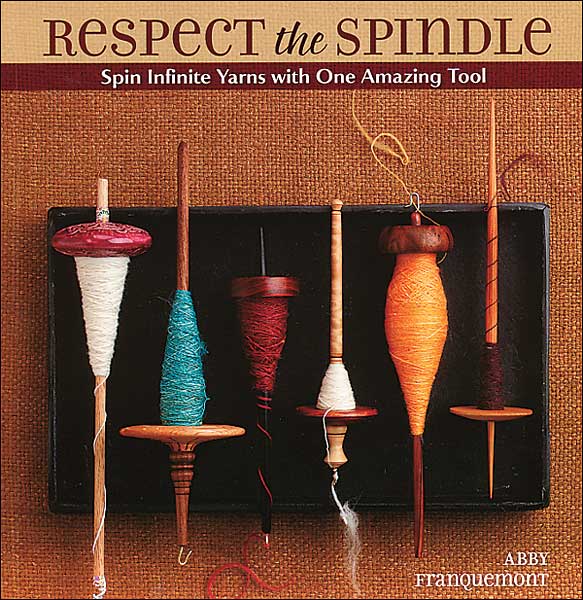 Respect the Spindle
$15.59
Retail: $22.95
32% off

Respect the Spindle DVD
$19.95
"Using a drop spindle to make yarn is a uniquely individual experience. There are dozens of combinations that are beautiful as well as mechanical. Amelia has done an impressive job of clearly enumerating and explaining each little nuance from choosing your drop spindle (or spindles if you become hooked) all the way through finishing your yarn to prepare for knitting.
Her simple spiral bound book, with its black and white photos, doesn't look impressive but it is absolutely packed with information. Topics covered include Choosing Your First Spindle, Choosing Your First Fiber, Drafting, Troubleshooting Your First Singles, Your First Plying and Finishing Your First Skein.
If you already have some experience with drop spindling, the second half of Amelia's book cover Productive Spindling. That's when she really gets down to details! Amelia reviews spindle types – hooks, notches, round, square, height, weight and diameter. She covers the importance of efficiently winding on to form a perfectly shaped cop. Four different ways to draft! Efficient spinning also leads to consistent yarn.
Then there is Productive Plying. After she shows you how to ply with a basic technique, Amelia goes on to Andean Plying, a Beauty-Wave Plying style and Navajo Plying. Each has its own qualities for making certain types of yarn. Understanding these plying techniques expands the possibilities for your spindle spun yarns.
Spindle spinning enthusiasts love how easy it is to take your spindle with you to capture little bits of time during your day. Amelia is an advocate of spinning whenever you get a chance – waiting for water to boil, a computer to boot up or even while you are out for a walk! Before you know it, you will have yarn ready and waiting for knitting inspiration." Kelley Petkun, Owner