New Tools & Accessories
The latest, greatest knitting gadgets! Tools and accessories to make knitting easier, faster and more fun. Maybe it's a yarn management breakthrough, a snazzy new row counter or something to tame your needles.

Milk + Honey Lotion Bars
by Milk and Honey

$12.00

Soak Flatter
by Soak Wash Inc.

$12.00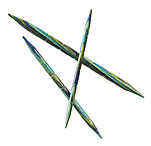 Options Caspian Wood Cable Knitting Needles
by Knit Picks

$3.82

Bare Yarn 20 Packs
by Knit Picks
$71.20 - $169.80