Shipping Deadlines for 2013 Holidays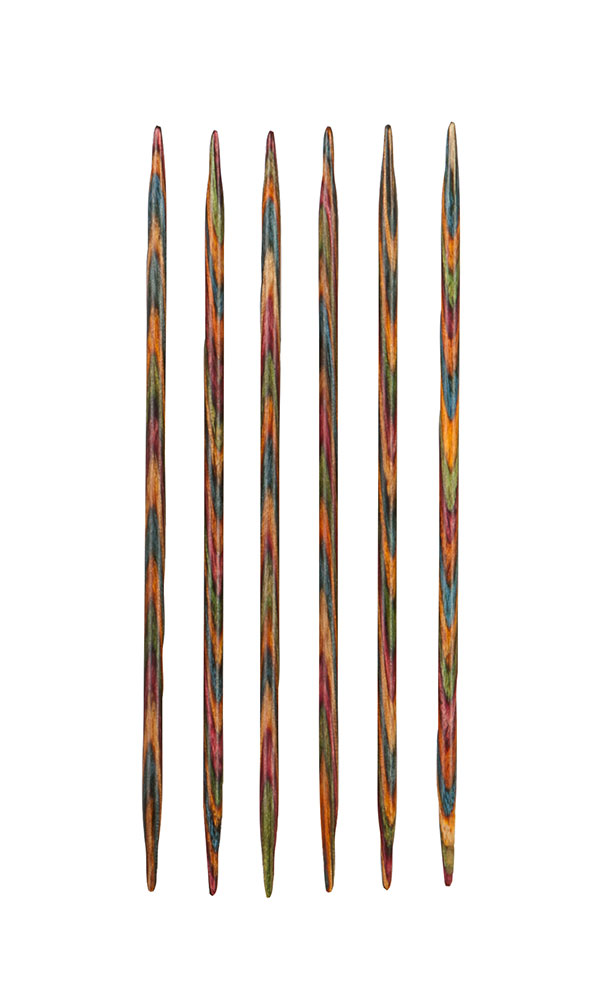 6" Harmony Wood Double Pointed Knitting Needles
$6.49 - $6.69
The smooth and lustrous surface of our Harmony wood needles allows your stitches to move freely for hours of comfortable knitting. Made from laminated birch wood with waves of color, the sharp, gradually tapered points slip easily into stitches so even complicated cables and K3togethers move along quickly. The Harmony wood warms quickly in your hands, and the burnished surface provides just the right amount of grip to easily manage slippery yarns like mohair and angora. The metric sizing system is more precise than the US sizing system. We offer two US size 1 - equivalent to 2.25mm and 2.50mm and two US size 2 - equivalent to 2.75mm and 3.00mm.
US Sizes 4 - 11 are available as 8" Harmony wood dpns.

For a demonstration of how to knit in the round with double pointed needles, click here. Our DPN set also comes in Nickel Plated, click here.
"Quite possibly our new favorite product for this issue is Harmony laminated wood needles by Knit Picks. These colorful needles come in either double points or interchangeable tips to work with Knit Picks' cables… They are affordable, yet lend an exotic look to the knitting basket." Knit Together, November 2007
"Typically, a K2tog or SSK with a small diameter wood needle will make me really nervous. I've broken wood needles, and nothing is more frustrating to this sock knitter than needle breakage. So, the biggest delight for me yesterday was the feeling of the total absence of worry about breakage. Aside from the fact that the needles won't break, the other positive features are the pointy-ness of the needles along with their longer tapered tip (a positive feature for stitch manipulation purposes). I also like the weight of the needles and the fact that the stitches on the needle don't 'roll'. I definitely enjoy them enough that I'll buy the 2.00mm and the 2.25mm ASAP." Twisted Knitter, November 2007
"I just received my new Harmony Wood Needle tips and cables. I had read on several sites how nice these needles were. They didn't exaggerate at all. I have used aluminum, plastic and bamboo needles. Until today, I always preferred the bamboo needles. Today, I am a convert to Harmony Wood needles. The wood feels fabulous to hold. The yarn moves along easily. And they are so lovely and colorful. I can't wait to replace my others with more Harmony. I am already 1/2 way finished with a new hat since opening the package. Thank you for a great product" Cheryl L., Knit Picks Customer
"Just wanted to let you know I'm really enjoying my Harmony DPNs and looking forward to my second set. They are pointy enough, warm, lightweight, and haven't warped yet (and I'm hard on my needles!)--probably that lamination thing. The socks just fly!" Melissa G., Knit Picks customer
"I LOVE my Harmony DPNs. They are perfect. Nice and smooth, lightweight and beautiful. Best of all, my yarn doesn't slip off when I don't want it to. They are fantastic!!" Joanne K., Knit Picks customer
"I absolutely LOVE your Harmony needles. The sharp points make them perfect for lace projects. The texture – 'feel' of the needles is great – unlike any other wood needle I have used and us knitters are all about 'feel'. Colors are great – another sensory addition to knitting. Thank you for this fine product." Susan C., Knit Picks Customer